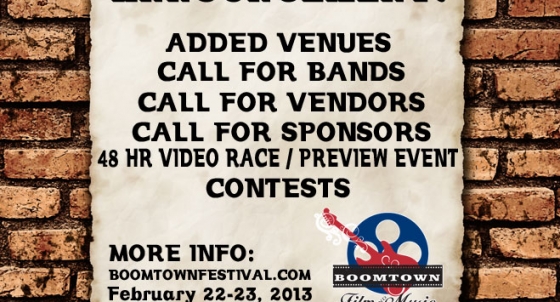 With 46 days left until the festival, we wanted to give an update to confirmed information for the festival so far. We have received a bunch of film entries by the way, but we are still accepting late entries up until January 15th, so its not too late. Head over to our film submission page to enter your film.
The dates are still going to be February 22-23, 2013 but we have added a new venue we didn't have last year. Along with Lamar University and Tequila Rok, we will also be using the Spindletop Gladys City Boomtown Museum! This venue will be the site for film screenings, live music, vendor booths, contests and more. We are very excited to be working with Gladys City and the ability to have outdoor vendors this year.
That's right we will have outdoor vendors at this year's festival at Spindletop Gladys City. If you have arts & crafts to sell, film & music merchandise,  jewelry,  or services please fill out our vendor signup form. The only vendor type we can't allow is food vendors since the event is on Lamar University and they have their own food vendors.
We are also making the official call for bands  play at our festival. We are looking for local, regional, and out of town acts as well. With the additional of Gladys City, we are also looking for acoustic acts. If you have a band or know one who might be interested in playing, please direct them to our submission page.
We will have another 48 Hour Video Race & Preview Event once again this year. This will take place on Friday evening, January 25th at a soon to be announced venue. Stay tuned to our facebook page where we'll be announcing the venue later in the week.
As always we wouldn't be able to have these festivals year-after-year without the help of sponsors and volunteers. If you are interested in sponsoring the festival either through buying an ad in our program, purchasing bulk tickets, or becoming a named sponsor at one of our venues, please contact us to learn more. Also, if you'd like to be a part of our festival as a volunteer, please go to our volunteer page to see all the positions available.