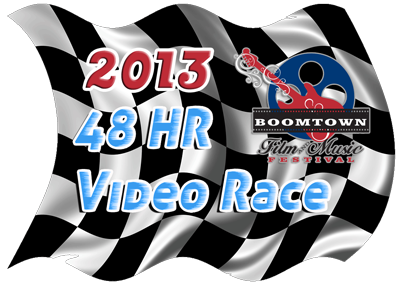 Where: Beaumont Art League, 2675 Gulf St., Beaumont
When: This Friday, January 25th from 7 p.m. to 9 p.m. (feel free to show up a little early for mingling & refreshments)
Cost: Free!
Got what it takes to write, shoot and edit a short film in just two days? Will your team's movie be better than all the rest? This year's 48 Hour Video Race is free to enter and starts on January 25th at the Beaumont Art League.
From 7 p.m. to 8 p.m., we'll be screening highlights from this year's Boomtown Film and Music Festival, then at 8 p.m. the race kicks off. Teams will sign in and be randomly assigned a genre. They will then have two days to make a short film from scratch.
All films made during the race will be screened during the Boomtown Film and Music Festival (Feb. 22-23). The winner will be announced during the BoomFest awards ceremony.
Both the BoomFest preview and the 48 Hour Video Race are free events.
For a taste of the caliber of films produced during this video race, check out last year's winner of the Video Race, "Hush" from team Neon Iron:
Terms & Conditions
Contestants of all ages are encouraged to enter and attend. We ask that contestant under 18 are accompanied by a legal guardian.
There is no minimum requirement for recording equipment.
All music, script and footage must be original material, created after the official start of the video race.
More questions? RSVP to our Facebook event and ask away!