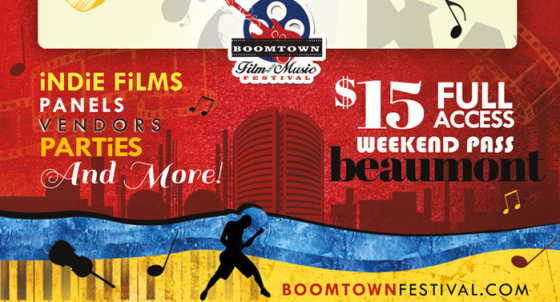 The festival is nearly here!
The festival is only a few weeks away. Here are a few updates for the festival this year.
FILM LINEUP
The film lineup is finally here and ready for view on our schedule page. The film programming was difficult this year due to the high volume of entries. We received four times as many entries as 2013. We think you'll enjoy the selections we made. We have over 60 films from across the globe as well as national and regional entries in the categories of Shorts, Experimental, Documentaries, and Feature length. Here are some of the highly anticipated films of the festival:

Zombex -An exploitation film starring the likes of Malcolm McDowell, Corey Feldman and B-movie legend Sid Haig. The film is also the directorial debut for Beaumont native, Jesse Dayton who will be in attendance for the screening on Friday, February 21 10pm at the Dishman Art Museum.
Blood Punch – The film starts as a Neo Noir crime thriller but becomes a sci-fi mindbender. It was the Audience Award winner of the recent Austin Film Festival.
Our Robocop Remake – Our RoboCop Remake is a crowd-sourced film project based on the 1987 Paul Verhoeven classic.Over 50 filmmakers (amateur and professional) from Los Angeles and New York have split the original RoboCop up into individual pieces and remade the movie.
My Father and the Man in Black – A documentary about the untold story of 'bad-boy' Johnny Cash, his talented but troubled manager, Saul Holiff, and a son searching for his father in the shadow of a legend.
Texas Filmmaker's Showcase – Organized by the Houston Film Commission, the showcase is a special screening event consisting of the best Texas short films and videos including the original short film, Hellion by Kat Candler which got her into Sundance last year.
Music Documentaries – we have a slew of music documentaries that we'll be showing at The Gig on Crockett street on Saturday, February 22.
To learn more about these films and many others, please view the full lineup on our schedule page. Also check out our film trailer page.
VENDOR BOOTHS

The 2014 Boomtown Film and Music Festival is excited to announce the return of the outdoor vendors selling their unique wares to festival goers. This year vendors will be setup on Crockett Street. We already have a bevy of vendors signed up but we have room for more. Vending fee is $10.00 for the day. Deadline for vending sign up has been extended to February 15th, 2014. Vendors may set up booths as early as 10:30 AM at Crockett Street on February 22, 2014.  Booth or display break down may start at 4 PM to 5 PM. So come one, come all! Go to our Signup Form.
Here's a list of vendors who have signed up so far:
Ashlie Renee with Pop Culture will be face painting, and vending re- purposed jewelry, made with soda cans, bottle tops, newspapers and other assorted recycled items.
Beeson Boutique  Handmade headdresses, jewelry, Vaporizer charms, hair bows, and clips.
Blue Grass green House screen-printed t-shirts, up cycled clothing, possibly some jewelry and gemstones, handbags, vintage clothing
Jackie's Herbals All natural herbal products: goat milk soap, salves, lip balms, lotions, and herbal Teas.
Jim Sanderson of Lamar University Press
Michael Peel with be on site to sell vinyl and various sundries.
Noxmoon creates shotgun shell lights, original "Beaumont/Hollywood" T-shirts, mini-paintings, prints, and other miscellaneous handmade crafts.
Vamptropolis will have Sackboy dolls, Cthulhus, zombies, unique mirror danglers for your car, jewelry and glass tile pendants.
 
The All-Access passes are available now for purchase. $15 gets you into all the events (including the after party) for the festival. Click the link below to buy your passes online.

 
All Volunteer Meeting
We have an all Volunteer Meeting on Wednesday, Feb 5th 7pm at the Beaumont Art League. We will discuss volunteer assignments, and final festival tasks. Facebook Event page.

 
Interested in sponsoring the festival? You can do so by either buying an ad in our program book and we also accept in-kind donations. Send us an email if interested boomtownfest@gmail.com
We also want to give a special thank you to our current sponsors for the festival: