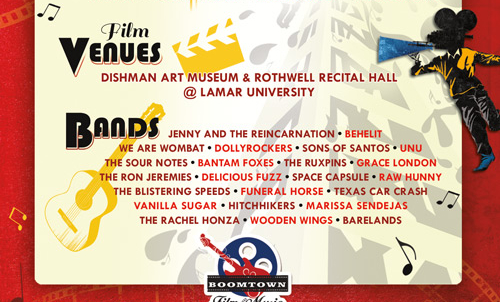 This year we have a great mix of local and out of town bands from Houston, Austin, and New Orleans. There are even a few playing SXSW. We also have a great mix of music genres. Full list of bands and schedule.
Each of the bands provided a track to wet your appetite and get you salivating for these awesome performances. You can preview these songs in the music player below. We also added an outdoor stage this year at the Gig on Saturday along with street vendors and food trucks. It's gonna be epic.

BoomFest 2014 Music Sampler by Boomtown Film & Music Festival on Mixcloud
MUSIC Video & 48 Hour Video Race
The Music Video Race we had on January 4th is completed. We had 10 teams sign up. They each selected a different song from one of our bands and had a week to create a music video. Nine teams completed the race and now we have their videos, ready for you, the public to vote on them! The voting takes place from Jan 13 – Feb 19. The top 3 videos will screen at the festival and 1st place will win a trophy. Go NOW and vote for your favorite video!
Our 4th annual 48 Hour Video Race is still going strong, this year's is happening on January 24 7pm at the Beaumont Art League. From 7PM-8PM we'll be screening highlights for this year's Boomtown Film and Music Festival, then at 8PM the race kicks off. Teams will sign in and be randomly assigned a genre. They will then have two days to make a short film from scratch. All films made during the race will be screened during the Boomtown Film and Music Festival (Feb. 21-22). The winner will be announced during the BoomFest awards ceremony. Both the BoomFest preview and the 48 Hour Video Race are free events.
Additional updates
FILM – We are still hard at work selecting the film entries which will screen this. We hope to make that announcement in a few weeks if not sooner. We also have a feature film called Zombex by Beaumont native Jesse Dayton which screens Friday, February 21.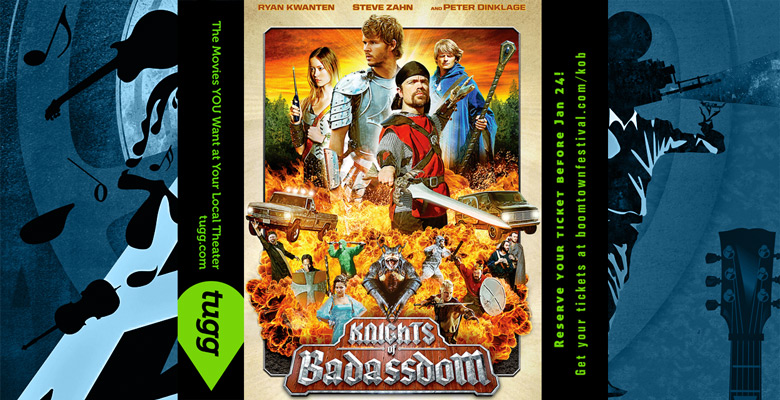 Knights of Badassdom Screening – February 4th 7:30pm (Dickinson Central Mall 10 Theatre)
We are bringing Knights of Badassdom to Southeast Texas, but we need your help to make the screening happen. We need to reserve 65 tickets on tugg.com by January 24th or the movie doesn't play. We really need your help to spread the word. The tickets are $11. Since we're the promoter, we'll also be raffling free festival passes and other goodies after the movie. Reserve your tickets at boomtownfestival.com/kob