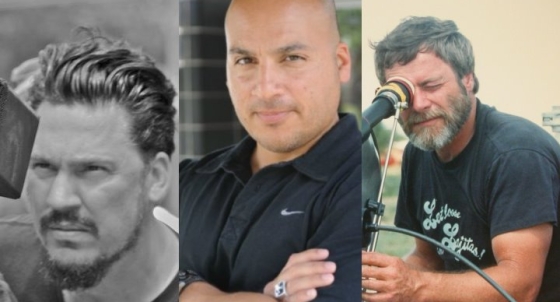 The festival is only 4 days away. We have a few last minute updates and changes to announce before the festival. Don't forget you can purchases your All-Access festival passes online.
FILM PANELS
We have finalized our film panels for Saturday, February 22nd. We have four panels this year and they will all be held at the Dishman Art Museum from 11am – 6pm. Here are the panels we have scheduled:
Beaumont native, Jesse Dayton has made his directorial debut with Zombex. Find out how he made the transition from musician to creating soundtracks for films such as Halloween II to getting behind the camera.
Q&A session with the Blood Punch filmmakers, director Madellaine Paxson and screenwriter Eddie Guzelian.
You'd be hard pressed to find anyone with more experience in the film production disciplines as Scott Smith. Cinematography, editing, directing, and producing. A lifetime of production experience with such films as Arlington Road, RoboCop 2, and The Chase.
Mark Chavarria, with more than 100 credits to his name, is a veteran in the stunt industry with such films as Inception, Terminator Salvation, and most recently Transformers: Age of Extinction.
---
MUSIC LINEUP CHANGES
We had a few band changes, Dolly Rockers had to drop out and we now have local metal band Darksidesun taking their place on Friday, February 21st 8pm at The Gig.
Hitchhikers similarly had to drop out and we now have Cat Bag playing their spot Saturday, February 22nd 8pm at Tequila Rok.
SPECIAL EVENTS
Everyone is welcome to the festival pre-party happening Thursday night, February 20th at The Logon Cafe. The party starts at 8pm with the all female vinyl spinners "Here Comes the Girls." Its a free event. Come hang out, buy your festival passes and preview whats to come on Friday and Saturday.
Ad Hoc Beaumont presents "Bloody Elephants"
One awesome last minute addition to the festival is Ad Hoc Beaumont performing their play Bloody Elephants live both nights of the festival. The script is by Casey Wimpee and acted by Gator and Michael Mason.
Synopsis: Swillin and plastered and pickled and pissed and whiskey-rocks-blind-like…Two Brothers find themselves each around 4th-level deep in a 5-tier strata of drunkenness, with the 5th-level representing total inebriation of the most reprehensible order. They make Verbose Toasts, and Speak of Life… [Video Trailer]
You have two chances to see this play: Friday, February 21st 9:45pm at the Dishman Art Museum & Saturday, February 22nd 11:15pm at The Red Room on Crockett Street.
Don't miss out on the Film Award ceremony happening on Friday, February 21 at 7pm Dishman Art Museum. We'll be handing out trophies for the winning film entries.We'll also be screening all of the 48 Hour Video Race entries as well as the top 3 from the Music Video Contest.
Festival Wrap Party
The party to end the festival is happening 11pm – 2am on Saturday, February 22nd at the Red Room on Crockett Street. Refreshments will be provided in part by Saint Arnold's Brewing Company. We'll also have music by DJ group Space Capsule. At 11:15pm don't miss Ad Hoc Beaumont presenting their play Bloody Elephants. You'll need a All-Access Festival Pass for the party.
Finally we'd like to give a huge thank you to all of our sponsors for making this festival possible.
In Kind Donations: Mountain Dew and TexJoy