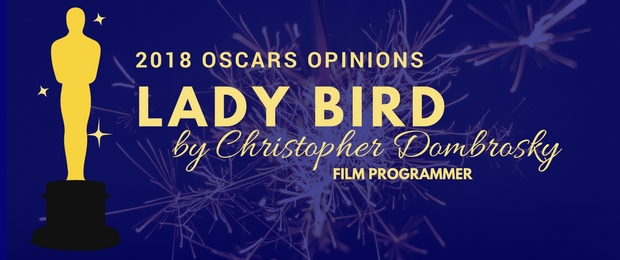 Lady Bird
by Christopher Dombrosky
Lady Bird reminds me of a girl named Greta. Not Gerwig. (I'll get to her later.) Greta Gustafsson, who dreamed of being an actress. It was a big dream for the teenage daughter of laborers in 1920s Sweden. Years later Orson Welles, ironically at his fattest, would describe Greta Gustafsson on film as a "great galumphing Swedish cow." But in just two years, Welles went on, Gustafsson found her way to Hollywood and became the mythic Greta Garbo, "the most divine creature who would ever be on the screen."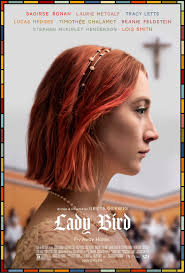 Cut to 2006. Austin, Texas. Interior. I sat in the dark at South By Southwest watching the premiere of indie filmmaker Joe Swanberg's new movie: LOL. Swanberg's previous film had helped make the prior year's SXSW ground zero of what became known as the Mumblecore movement. I'd been there too, but hadn't realized I was witnessing the start of anything special. All we perceived was a lot of rough-looking movies that were hard to hear. Now Swanberg was back with his second feature, which was the debut of a 21-year-old actress named Greta Gerwig. She was there that night, both on screen and in the theater, but I have to admit that I didn't think much about the blond girl. For the second year in a row I didn't realize that I was witnessing the beginning of something important.
Gerwig would spend the next ten years working with a slew of indie filmmakers before abruptly eclipsing all of them with her own solo directorial debut: Lady Bird, now nominated for Best Picture, Best Director, Best Screenplay, among other Bests. The movie itself is a love story, but not the romantic kind. It is the fraught but funny love story of a mother and daughter. Perhaps every mother and daughter, since half the girls I know seemed to watch the trailer and declared "That's me and my mom!"
Therein lies the magic of Lady Bird; I was never a teenage Catholic schoolgirl in 2002 Sacramento, but even I could identify with the titular protagonist. The personal, if honest, can be universal, and Greta Gerwig's brilliance as a writer/director in this first film is her authenticity. Her story goes out of its way to make clear that Lady Bird is not the smartest, or the prettiest, or the most virtuous, but that's part of what makes her feel real (along with a wonderful performance by Irish actress Saoirse Ronan, justly nominated for her own Academy Award) and so we're as invested in her story as we are when Tony Stark saves the world from computer generated plot devices. Lady Bird's longing to get out of Sacramento is as compelling as Luke Skywalker gazing at twin suns, dreaming of adventure in the bright center of the universe. But Gerwig achieves her spectacle of the soul on a $10 million budget.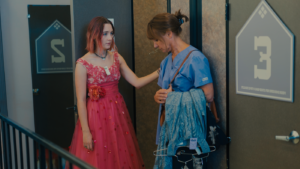 Lady Bird's original title, Mothers and Daughters, could just as easily have been the title of Hollywood's Best Picture winner 35 years ago: Terms of Endearment, another brilliant dramedy about a strained mother/daughter relationship. Is that an omen that the Academy may repeat itself and give Lady Bird or Greta Gerwig Oscar gold? I can't say. Guillermo was firing on all cylinders when he made The Shape of Water. But I can say that on awards night I'll be rooting for Lady Bird, if only because I was there with that blond girl in Austin in the beginning before Greta Gustafsson's apotheosis into Garbo. I said before that the personal can be universal, but in this instance for me the universal has turned out to be a little personal.