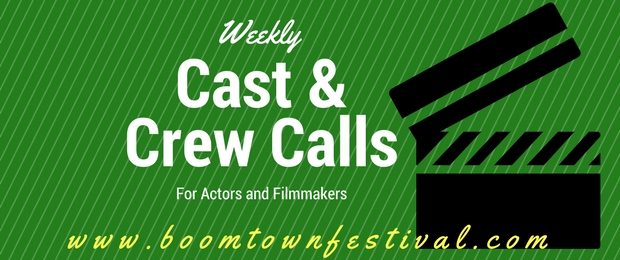 Are you looking to work on a short film or take acting classes? Our friends at the Houston Film Commission make a list of casting/crew calls every week, which is a brilliant idea! You can subscribe to their newsletter at their website (http://www.houstonfilmcommission.com).
If you have a project that you need a crew or cast, please email us!
SPECIAL BEAUMONT CASTING CALL!
Looking to cast the female lead (age 18-24ish) in the horror/thriller short film "Black Book." Think Kiernan Shipka's role in "The Blackcoat's Daughter." Length will be around four minutes. We plan on shooting sometime during the fall in the Beaumont area, not exactly sure when yet. Interested? Contact [email protected].
CREW CALL [$$$]
Episodic project

FIFTH WARD

is seeking crew for a July 17 through August 28 shoot in Houston. Synopsis: In Houston's historically black neighborhood known as the Fifth Ward, an argument at the local convenience store leaves a young girl dead. The residents are furious, especially when the police force doesn't make any arrests and all charges are dropped. With few options, Mina is desperate for help, even if it comes from her estranged ex-brother-in-law and the newly appointed commander Robert Kennedy. Kennedy struggles to gain respect in the mostly white police force, especially when Mina and the family he left behind challenges his idealism with the realities of making ends meet in the Fifth Ward. Seeking a Production Designer, 2nd AD, 1st AC, Camera Intern, Makeup and Hair, and Location Sound Mixer for paid positions. Also needed are non-paid FT/PT Production Assistants and Camera Intern. Please send resumes to

[email protected]
The Museum of Fine Arts, Houston is seeking a part-time Creative Video Producer responsible for capturing footage, editing, and creating content for documentation and marketing campaigns. The position would guarantee 45 hours of work per month, with the potential to book more, and night and weekend hours may be required. Applicant must have the ability to provide some basic equipment such as a camera and laptop for uploading footage and must own Mac or Windows based PC or laptop. Please send a resume along with a link to samples of work to

[email protected]

The Victoria Television Group is looking for a department head for Creative Services in Victoria TX. This role is a great opportunity for someone who wants to build up their commercial directing reel. As the department head, you would lead a team of two additional cameramen/editors, meet with the clients, write scripts, direct the shoots and edit. Also responsible for department budget, equipment purchases, billing and weekly department head meeting. The full time position is Paid. If interested, email resume and demo links to Jeff Pryor – Station Manager at

[email protected]
Texavision Media Center has launched Television Programming in Houston with live streaming content and access through mobile devices. We are currently seeking Associate Producers to join our team. Associate Producers will have the opportunity to create and broadcast their own shows, films or music videos. Duties include writing, editing, idea pitching, assist in promotions as well as manage growing tape needs on the program. For consideration, Producers must have writing knowledge/skills, excellent creative writing and communication skills, ability to recognize stories with potential and develop them into compelling broadcast content, highly detail oriented with the ability to execute ideas, comfortable working with talent, and other high profile individuals, excellent time management skills, with the ability to prioritize and multi-task, and work under shifting deadlines in a fast paced environment. To schedule a pitch meeting, please email

[email protected]

or visit the TV Pitch Guidelines here

http://bit.ly/2qeylhJ
CREW CALL [Non paid]
Independent feature film in development BULL is currently seeking interns to assist us with field research and casting outreach. Aspiring directors, producers, and/or documentary storytellers with an interest in fiction filmmaking are encouraged to apply. We are in the development phase and are doing extensive casting at middle and high schools in the Houston area. The film is directed by Annie Silverstein and produced by Monique Walton, and  has received support from the San Francisco Film Society, the Austin Film Society, and the Sundance Institute. We are looking for the following skills: self motivated, deadline driven, positive/problem solving attitude, strong writing and communication skills, attention to detail, shooting and editing experience recommended (not required). This position is unpaid and hours are flexible.  We are looking for someone who can commit 10 hours a week for three months. Must be available for casting calls and scouts for a few hours during the week and on weekends. If you're looking to get experience and insight into the early stages of making an indie feature, this may be a good fit for you. Please send your cover letter and resume to Monique Walton at

[email protected]

, and indicate your field of interest and availability.
Champion Entertainment is seeking crew for upcoming web series "Jeff" to be shot in Houston area 9/29-12/29 2017. Synopsis: Grace has a psychological disorder where she can't leave any of the parameter of her home. She has no friends, and very anti-social. Her mother passes away and leaves her a large amount of money and she spends it all on an prototype computer AI operating system. The AI Jeff grows with Grace eventually understanding Grace inner self and realizing  she has an urge to kill. The AI pushes her to the limits to become the ultimate killer. Crew Positions Needed: Cinematographer, Production Assistants (PA's), Boom Mic Operators, Gaffers, Grips. Positions are Unpaid (Deferred). Film Credit, Meals, Snacks and Beverages provided. Please e-mail questions and/or resumes & reels to

[email protected]
Black 17 Productions is seeking a fight choreographer/stunt coordinator for a gritty and psychological short film titled "Tartarus: The Devil's Basement" The short is based on the multi award winning feature screenplay of the same name. Shooting days are Sept. 15-17th on the Bolivar Peninsula in the Fort Travis bunkers and one day (Sept 18th) in Houston at the old Meridian Club or Old Post Office. Synopsis: Anna White has been kidnapped and held captive under an after hours club called The Devil's Basement. Her captor, Michael Delano, is a religious zealot who has used her as bait to draw her husband, Detective Travis White, to him and have him repent for his past indiscretions. Fight involves kicks, punches, throws, and prop knife. Position is Unpaid, food will be provided while on set. Please send resumes and/or questions to

[email protected]
CAST CALL [$$$]
Fight Against Urban Diabetes, a short opening film (1-1 ½ minutes) for show at the Cities Changing Diabetes Summit 2017 and on social media. Novo Nordisk are looking for someone aged 13-17 years old with a BMI over 25 to take part in a short film about diabetes and city life. We are looking for someone who can give a strong, emotional delivery when talking about issues of weight, diabetes, and the struggles of city life. The film will look at the current health issues facing cities and will also look to the future, aiming to raise awareness of city health problems and to inspire those in charge of cities to make positive change for their inhabitants. The deadline for entries is Friday the 25th of August. We will then have a second round of casting (reading the script) and the final decision will be made by the 1st of Sept. We are currently looking at filming on either the 12th or 13th of September for only a few hours. Casting will be based online. We will require that all applicants submit a video of maximum 3 minutes in length, telling us about yourself and what you like to do (name age, school, hobbies etc.) and telling us about a difficult experience you have had in your life. You can film the clip on a smartphone or webcam (or whatever you like) showing us what you look like from the chest up and looking into the camera as you talk. We will pay a small fee for the role. However it is important to us that we can connect with someone who is close to the issues at hand and who wants to speak up and raise awareness. Please contact Gabriella at

[email protected]

if you have any questions. Once you have filmed your entry, please send us the file via

We Transfer

using the same email as previously mentioned.
Carrithers Studio is seeking cast for "A Thousand Words" short film to be shot in Houston over three days in the fall. Synopsis: A father and son wrestle with a family secret in order maintain their close relationship. Danny is a gay Chinese American that works for an architecture firm in Houston. His father stops by unexpectedly for an extended visit. Danny is the oldest son and only sibling that will speak mandarin to his father. His father is unaware of Danny's sexuality and Danny does his best to conceal it from him, fearing it might jeopardize their closeness. Danny and his father come to a crossroads where they have to decide to either be honest with each other or maintain the status quo of their relationship. For the role of Danny we would an Chinese American actor in his mid 30s to mid 40s.For the role of Danny's father we would like a Chinese American actor in his late 50s or 60s. Some familiarity with Mandarin would be ideal for both actors. The roles are Paid. Please send resume and demo reel/material to

[email protected]
Dub-G Films is seeking cast for independent feature film "Wards of Houston". Synopsis: Wards of Houston is a family drama revolving around 15 year old Daisy Harlin and her struggle to co-exist in two very contrasting worlds of privilege and hood life. Accepted into a prestigious high school on an academic voucher, Daisy is subjected to daily bullying from her high class peers, causing Daisy to question the brokenness of her own home life. Never knowing her father, who was killed in her infancy, Daisy begins questioning and investigating his untimely death. Probing the fifth ward neighborhood of Houston, Texas, Daisy uncovers a multitude of secrets surrounding her fathers death. The more Daisy pursues the truth, the more she finds herself in danger from everyone in her path, forcing them to face every lie. Seeking Lead Role: Daisy Harlin, 15yo, African American female. Role is Paid. Please e-mail headshot/resume/reel to Zuauhn Z. Kyle at

[email protected]
The Beta Boyz 1.0, a new live streaming gamer talk show on

YouTube

and

Twitch

, is seeking cool, cute gamer chick to join in on the gamer talk show hosting action. Initial commitment is minimal, however, looking for unfettered interest and prefer commitment to the long game. Role can be a lot of fun with tons of breathing room for your very own creative license. The show is unscripted and the hosts mull through the latest in news, taboos, and political views, completely non-PC and unfiltered. The The Beta Boyz 1.0 studio is located in the Cypress-Fairbanks area (290@Hwy 6). Role is Paid. Please send headshot/resume to

[email protected]
Seeking a Show My Property TV: Tour Guide host. Show My Property TV is a nationwide production company specializing in realty and property videography. Our project in Houston entails a Female host guiding possible residents around the property showing off everything the property has to offer. Shoot date is TBD in August, Role is $150/day. Please e-mail reel/resume to Kyle Downs at

[email protected]

Episodic project FIFTH WARD is seeking cast for a July 17th – August 28th shoot in Houston. Synopsis: In Houston's historically black neighborhood known as the Fifth Ward, an argument at the local convenience store leaves a young girl dead. The residents are furious, especially when the police force doesn't make any arrests and all charges are dropped. With few options, Mina is desperate for help, even if it comes from her estranged ex-brother-in-law and the newly appointed commander Robert Kennedy. Kennedy struggles to gain respect in the mostly white police force, especially when Mina and the family he left behind challenges his idealism with the realities of making ends meet in the Fifth Ward. Open Casting Call is Sunday 7July 9th, 1:30pm – 8:30pm at the Houston Museum-African American Culture (4807 Caroline St. 77004) Cast Needed: Men, various ethnicities, ages 25-40; Caucasian men, ages 50-70. Women, Black, ages 10-15; Women various ethnicities, ages 25-40. For more information please e-mail

[email protected]

CAST CALL [Non Paid]
A leading Cable Network is looking for outgoing, charismatic daters who are at a crossroads in their dating life for the TV show "Has your Love Life Gotten Complicated?". Online dating has made it easier than ever to link up with eligible singles in your area. But with so many potential partners at your fingertips, it can be tough to settle on the one right person. Are you dating a few people, but think it's time to choose? Torn between two fantastic potential mates and don't know how to decide? Is the input from your friends and family getting exhausting? Dating apps can make romance complicated, but we are here to help. Let us remove you from the day to day of your dating dilemma, so  you can finally clear your head. With the advice and guidance of our resident relationship expert, you may be able to decide which person is right for you — once and for all. Filming dates are still being worked out but we are casting nationwide (all casting is done through Skype). Roles are Unpaid. Contact Bianca Macaluso (Casting Producer on project) at 818-480-4948 or

[email protected]
Genuine Casting is seeking real people living in Houston neighborhoods that are experiencing regrowth, neighborhoods that are experiencing a resurgence and renovation. Searching for long-term residents who are passionate about their community and newcomers excited to join a developing neighborhood. We want to hear your story. Those selected will be featured in a commercial and be compensated. Please fill out our online questionnaire to be considered:

https://form.jotform.com/71985641956977
Champion Entertainment is seeking cast for upcoming web series "Jeff" to be shot in Houston area 9/29-12/29 2017. Synopsis: Grace has a psychological disorder where she can't leave any of the parameter of her home. She has no friends, and very anti-social. Her mother passes away and leaves her a large amount of money and she spends it all on an prototype computer AI operating system. The AI Jeff grows with Grace eventually understanding Grace inner self and realizing  she has an urge to kill. The AI pushes her to the limits to become the ultimate killer. Character Breakdown: Grace Murphy – protagonist reclusive/awkward; Officer-Detective who begins researching several disappearances that continue at Graces home when she begins Air BnB; Jeanette Murphy – charismatic, sister of Grace. She is charismatic/materialistic; Khadija Shah – CEO of Holistic technologies, she is assertive/arrogant; Brad – Intern at Holistic technologies, he is introverted/pushover; Wyatt – Jeanette's boyfriend/eventual fiancee, he is cocky/neo-conservative. Audition is 08/25/2017, 6PM-9PM at 6011 Westline Houston, TX 77036. Roles are Unpaid (Deferred). Film Credit, Meals, Snacks and Beverages provided. Please e-mail questions and/or resumes & reels to

[email protected]
ILVIEN Productions is seeking cast for short film THE PICKLE JAR to be shot in Houston area September 2nd and 3rd. Synopsis: Over the course of 2 days doing hard labor, GABRIELA PEREZ (14) learns the kind of intense devotion that fuels her mother ALMA PEREZ's (40s) love for her and learns just how much Alma plans to give her a better life. Gabriela Perez (14 – 16): Gabriela is an unmotivated, under achieving teenager. Raised in a low income neighborhood she is making choices that show she does not believe she will rise above the environment she is in, but will a mother's touch love change her course? Alma Perez (40s): Alma Perez looks like she is no stranger to hard work. A woman who has had to make choices that derailed her, she lives for the single purpose of seeing her daughter accomplish more than she ever did. Can she make Gabriela share her vision? Roles are Unpaid. Please e-mail resumes/reels to Imeh Esen at

[email protected]
An independent feature film, "Sins Of A Scorned Wife", is seeking cast for a shoot tentatively scheduled this summer in Houston and Galveston for 10 shooting days. Synopsis: When a woman is fed up , not even hell can stop her. Wife goes through ups and downs with her husband until he pushes her to the edge. Role needed: Sunny, 25-35 years old female, working undercover for wife, seduces husband, Malcolm,  while acting as his business consultant. She is attractive, passionate, intelligent, and confident. She is all business, but has a side that is irresistible. Actress must be comfortable with simulated love scenes (no nudity, or impropriety) with Malcolm. Role is Unpaid. Please send resume/reel to producer LQ Stallworth at

[email protected]
Deal Breaker is a comedy short about a young professional who's questionable profession is getting in the way of his relationship with his live in girlfriend. This 10 minute short gives us a small glimpse into one of the disagreements they have. Casting for the 3 leads. Johnny: Male, late 20's/early 30's, laid back and in shape white guy who is passionate about his questionable profession. Candidate must be comfortable with his shirt off. Kate: Late 20's, Johnny's attractive live in girlfriend who is frustrated with Johnny's questionable profession getting in the way of their sex life. Walter: 30's/40s, a cooky Indian delivery man who is a big fan of Johnny's questionable work. Tentative shoot dates are October 7th & 8th in the Houston area. Roles are Unpaid, cast & crew will be fed and given credit. Actors may send their head-shots, demo reels, resumes,  to Vincent Drabik (VRD Productions) a

t [email protected]
Black 17 Productions

is seeking cast for a gritty and psychological short film titled "Tartarus: The Devil's Basement" based on the multi award winning feature screenplay of the same name. Tentative shooting days are Sept. 16-18 on the Bolivar Peninsula and one day in Houston. Synopsis: Anna White has been kidnapped and held captive under an after hours club called The Devil's Basement. Her captor, Michael Delano, is a religious zealot who has used her as bait to draw her husband, Detective Travis White, to him and have him repent for his past indiscretions. Cast Needed: Three males ages 30-40, One female lead role age 30-40. Roles are Non-Paid (film credit, IMDb credit, food/drink, possibly housing on Bolivar Peninsula). Please submit head shots and demo reel to

[email protected]
WORKSHOPS FOR ACTORS:
Actors Helping Actors" is a talented team approach by Marilyn Swick, SAG-AFTRA actor, bringing acting workshops for all ages and levels, that includes a production team to shoot reels, auditions, shorts, and even feature films.  The adult group meets on Thursdays from 5:30-7:30 pm. The mixed group adults/children meets on Saturdays from 10:00-11:30 am. All classes are held at my office in Memorial. Please visit my IMDB page to learn more about my work  

http://www.imdb.me/marilynswick

or e-mail

[email protected]

to hold a spot for the next workshop, private, or audition self-tape.  Class schedules and changes are posted 48 hours prior to class in the event I am booked on set.  For more information visit

https://www.facebook.com/Actors-Helping-Actors-468351116701654
Jeff "Dock" Dockweiler is one of the elite acting coaches in the industry and he is currently conducting a weekly acting class in Houston. Three weekends each month, Dock flies in from Los Angeles to teach his scene study class which focuses on making you an expert in the foundation of storytelling and pushing you to maximize your skills in the audition room and on set. Dock says "my focus is to get you working and keep you working!".  There are 2 separate classes each week based on age groups. 3 Saturday classes each month: Class #1 – Morning class for actors ages 10-15 yrs old. Class #2 – Afternoon class for actors 16 yrs old and up. Location – 5322 W. Bellfort Blvd. Suite 201, Houston, Texas 77035. For more information and to register please visit

https://www.coachdock.com
An Introduction to Voice Over and Voice Acting Workshop will be held on Saturday, August 19th from 1 to 5pm at 4801 Woodway. John Wesley Downey will teach the workshop which will teach basic technique, include lots of practice and constructive critiques. Radio and TV commercials, industrial narration, audio books and animation/video game character work will be addressed as well as getting an agent and voice over demos. Limited to five students. Major discount for early enrollment. To enroll contact John a

t

[email protected]
Crystal Martinez offers classes and private lessons that consist primarily of scene work for film and TV, where you'll learn how to break down scripts and do character analysis and are geared toward preparing you to get representation, by prepping for you for agent visits, auditions, and for getting you ready to be more confident, camera aware and set ready.To reserve a spot please visit us at

https://www.ogac.life
Sarah Gaston workshop "So You Wanna Go to L.A.?". If you've ever toyed with the idea of going to Los Angeles for pilot season or for a permanent move, this workshop is for you. I recently got back from studying with the Groundlings and I have a lot to share about what you can do to prepare before you go and where to start when you get out there.  This workshop will save you time and money, and will give you a head start once you get there. You'll learn about branding, marketing yourself, laying groundwork, how L.A.'s market differs from Texas and much much more. The workshop is Wednesday August 23rd, 6:30P-8:30P at 5322 W Belfort Ave #201 (77035, on the corner of Belfort and Chimney Rock). To reserve your spot e-mail

[email protected]
Next Actor Studio is holding on-camera acting classes for adults, teens & kids at West U and Rice Village area, along with Stanislavski Method Sessions for beginners, intermediate and advanced level students, as well as screenwriting and filmmaking workshops. Enrollment is ongoing. For more information please visit

http://www.nextactor.com/

or e-mail [email protected] or call 713-532-2867
WORKSHOPS FOR FILMMAKERS
Film & TV Talk with Entertainment Attorney Jalene Mack, a chance for those new to the industry or veterans who need some insight to ask questions and learn about the art and business of entertainment in Houston and across the nation. The workshop is Sunday, September 10th, 3:00P-5:00P at Bud's Pitmaster BBQ (1001 Agenda de las Americas, 77010). For more information and to register please visit

http://jalenemack.com/upcomingevents.php
Houston MediaSource, Houston's Public Access Television Channel, provides training and equipment for aspiring Film, TV, and radio producers. Houston's creatives are welcomed to learn how their artistic visions can be transformed into high-quality film or TV productions at FREE Orientation Sessions held every

Monday

at

6 p.m.

Houston MediaSource is located at 410 Roberts, 77003 in EaDo. Attendees will learn how they can produce their own TV shows, radio programs, and film projects at Houston MediaSource, using top of the line gear, studios, and editing facilities. Learn more at

www.hmstv.org

or RSVP to Roger E Palomino at  

[email protected]

or call

(713) 524-7700 x112
Next Actor Studio is holding on-camera acting classes for adults, teens & kids at West U and Rice Village area, along with Stanislavski Method Sessions for beginners, intermediate and advanced level students, as well as screenwriting and filmmaking workshops. Enrollment is ongoing. For more information please visit

http://www.nextactor.com/

or e-mail

[email protected]

or call

713-532-2867
JUST FOR KIDS
Jeff "Dock" Dockweiler is one of the elite acting coaches in the industry and he is currently conducting a weekly acting class in Houston. Three weekends each month, Dock flies in from Los Angeles to teach his scene study class which focuses on making you an expert in the foundation of storytelling and pushing you to maximize your skills in the audition room and on set. Dock says "my focus is to get you working and keep you working!".  There are 2 separate classes each week based on age groups. 3 Saturday classes each month: Class #1 – Morning class for actors ages 10-15 yrs old.  5322 W. Bellfort Blvd. Suite 201, Houston, Texas 77035. For more information and to register please visit

https://www.coachdock.com
Next Actor Studio is holding on-camera acting classes for adults, teens & kids at West U and Rice Village area, along with Stanislavski Method Sessions for beginners, intermediate and advanced level students, as well as screenwriting and filmmaking workshops. Enrollment is ongoing. For more information please visit

http://www.nextactor.com/

or e-mail

[email protected]

or call

713-532-2867