V/H/S – America's Terrifying Home Videos
by John Jones
Halloween has come around once again for another year's worth of scares! Kids dress up to collect their candy bribes from the neighbors and parents sigh as their bowl of candy on the porch is gone. For those in between and in the golden years of their lives, chances are you're going to a cool costume party where half the people are dressed as Fortnite characters and the other dressed as Harley Quinn for the third year in a row.
Or if you're like me, you're staying in.
Alone. Again. But, you're in luck! While those losers party and create cherished memories with their friends that they will hold dear forever, you get to experience (at least if you have a Hulu account or purchase at your local Wal-Mart) V/H/S. You may be wondering, "What's V/H/S?" Well, before fire was created, our forefathers used these devices called "VHS tapes" to watch their favorite movies and tv shows on the ol CRT. Anyway, those relics act as the foundation for the movie.
Unlike traditional films, V/H/S is an anthology, where short stories which have a
similar theme (in this case, horror) are stitched together into one feature length film. Using the style of found footage, each of the six stories explore a different side of horror from slashers to the paranormal. The overarching story that connects these shorts deals with a group of degenerates who decide to break into a house and try to steal a tape for an anonymous employer. As they search the house for the sole tape, several of the members go through a collection of tapes and watch the horrific events unfold. You might see some familiar names among the directors and writers of these shorts like Adam Wingard, director of You're Next and The Guest.
While each story is different in its own way, they all share the holy trinity of horror
movies: sex, blood, and bad decisions. Now, to answer the biggest question: Why would you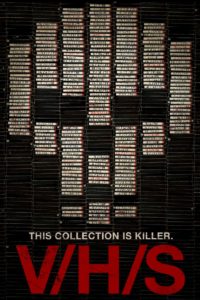 want to watch this movie? Why not watch something like The Shining or, y'know, Halloween? And to that I say, you bring up a good point. All across the board, reviews of this movie are mixed to negative and if you never heard of this movie, why waste your time watching a terrible movie when you only have one Halloween a year? But, the reason I urge you to watch it or at the very least watch the trailer for it is that out of all the scary movies in the world, it may be theonly horror movie that scares me. Well, I wouldn't say that I'm afraid of it, but it gives me that feeling that there is a heavy knot in my stomach, which a lot of horror movies rarely do to me.
To be honest, the shorts aren't all that spectacular and follow common horror tropes to a T. But, the movie gives me this overwhelming feeling of anxiety when I watch it, so I stay glued to my seat. I think the reason for this is the home video aesthetic and somewhat realistic characters. The glitches of the ancient tapes and the audio going in and out bring a sense of nostalgia and security when I watched video tapes when I was a kid. Just like the thieves in the main story, I watch these tapes intently and fear for those unaware of their doom. There is a sense of voyeurism that comes from watching the characters, who behave as though nothing can harm them when in reality they are in the calm before the storm and you can't help them. Like the
1967 short story, you want to scream, but you have no mouth.
Anyway, V/H/S is an R-rated film, which includes blood & gore, graphic nudity, sexual themes, strong language, and drug use. If you crave more V/H/S, the sequel V/H/S 2, which many have called a serious improvement from the original, can be streamed on both Netflix and Hulu. I also recommend checking out
Trick 'R Treat, another horror anthology film, but about the traditions of Halloween. Tell me what you think about V/H/S! An underrated classic or just a collection of sewn up garbage?
Happy Halloween!