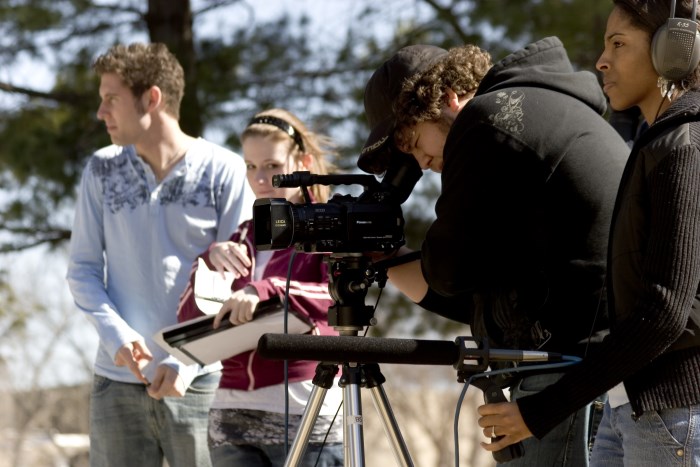 Boomtown 48 Hour Film Race
Date: January 13, 2017

Time: 6-8PM

Place: Logon Cafe (3805 Calder Ave, Beaumont, TX 77706)

Cost: FREE
RACE RULES
The 48 Hour Film Race is open to all ages. Teams can consist of any number of people.
At the beginning of the race, a representative of each team will come forward, sign-in with a team name, spin the genre wheel to randomly receive a genre.
All materials (footage, music, etc.) used during the race should be original or used with the permission of the creators. Unauthorized use of copyrighted materials will be taken into consideration by the judges.
All entries should have a run-time of no longer than 4 minutes, including credits.
The deadline to submit your video is 48 hours after the last team signs in and receives their genres. This will put the deadline around 8:00 PM on Sunday, January 15th. Late entries will be accepted, but the time of receipt is recorded and taken into consideration during judging. In other words, if you're late it counts against you. DON'T FORGET to plan for the time it will take you to render your file, upload your video or burn your disc.
It is preferred that teams turn in their entries as data files. We suggest submitting your videos electronically to [email protected] via a service like Wetransfer.com (which is free, user friendly and has a 2gb limit). Physical copies on flash drives or data discs will also be accepted. Race representatives will be at the Tradewinds Tavern (inside the MCM Eleganté) from 8:00 PM – 9:00 PM on Sunday night to accept physical entries.
Films will be judged based upon artistic and entertainment value, and adherence to the rules.
All entries will be screened at the 2017 Boomtown Film & Music Festival Awards Ceremony on Saturday, Feb. 25th. The best ones will be awarded 1st, 2nd and 3rd Place. There will be a cash prize of $100 for the 1st Place winner.
It is free to participate in the 48 Hour Film Race. However, participation in the race does not grant free entry at the Boomtown Film & Music Festival. Day passes will be sold at the door to those that only want to attend only the Awards Ceremony.
5 free All-Access Passes to the 2017 Boomtown Film & Music Festival will be awarded the following week to the team that best documents the making of their video (brainstorming, writing, shooting, editing, etc.) and posts those photos on the race's Facebook Event Page over the course of the weekend with the hashtag #BoomFestX. Posting to instagram and twitter is also encouraged.
2016 Film Race – Behind The Scenes