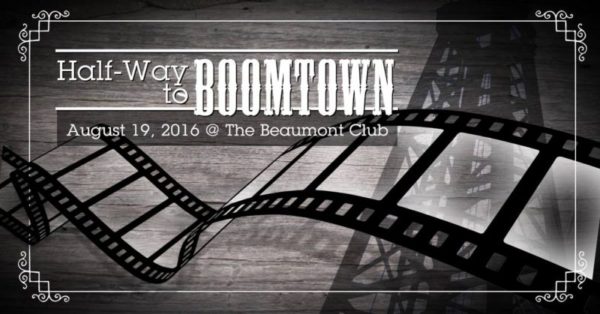 Friday, August 19th 7-9PM
The Beaumont Club (590 Orleans St, Beaumont, Texas 77701)
FREE Event!
To mark the halfway point leading up to #BoomFestX , The Boomtown Film and Music Festival will be throwing a party at The Beaumont Club in Downtown Beaumont, as well as, an after party at The Red Room on Crockett Street!
We will be kicking off a special film contest with guest judge Caroline Thompson (Writer of Edward Scissorhands and A Nightmare Before Christmas to name a few), unveiling the upcoming festival poster designed by local graphic artist Lance Larue, and hosting a meetup for the local filmmaker group, "Southeast Texas Film Alliance".

There will be a full cash bar and free appetizers so come mingle, learn about upcoming BoomFest events, and see a few of our past film race entries by talented local filmmakers! Spread the word, bring a friend, and RSVP on our Facebook Event Page.
***Your attendance at the Celebration grants you FREE entry to the Halfway to Boomtown *Afterparty!* to follow at Red Room with live music starting at 9:30pm!