by John Jones
Ah, Christmas. One of the most beloved and celebrated holidays in the world. And for good reason to! While presents are thrown about like Oprah on speed, Christmas is a day for quality time with friends and family. At least if you have any friends left and if Susan didn't take the kids with her to Europe even though it was my weekend!
But, besides all that, what a jolly holiday. So, for the few drinking more egg nog alone than usual, why not shake things up a bit and watch How the Grinch Stole Christmas? No, not the classic 1966 one or that new Cucumberpatc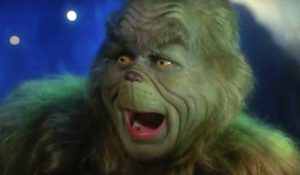 h one, but the Academy-Award winning film with light terrorism and heavy xenophobia.
The movie was directed by Ron Howard of all people and stars Jeffrey Tambor, Christine Baranski, Bill Irwin, Molly Shannon, and Jim Carrey as the titular character. The story itself is just the 1966 short if it was elongated using a torture rack and some adult innuendos thrown in for good measure. Unless you've been in an 18-year coma and avoided this trash fire, you're probably thinking, "I'm not going to watch this." However, I implore you to take another look at it. You're absolutely right, it's awful. But, it's not as bad as you think.
Heck, if you're learning about film in school, this is a good movie to teach you what NOT to do. There are a couple good jokes in there and surprisingly, the critique of commercialism is relevant throughout. Also, the film soundtrack has Smash Mouth and Busta Rhymes on it! So, if that won't satisfy you, maybe you're the real Grinch after all.
Check out another particularly interesting article about this movie here if this opinion piece left you wanting more.