It's hard to introduce Olivia, as she is the unofficial Queen of Live Music in Southeast Texas, and it's rare to meet anyone who hasn't rocked out at a show she's booked. Olivia has worked tirelessly to bring awesome touring bands to Beaumont; first to her house/art gallery/live music venue/living art installation, as well as to numerous festivals around town (including our own BoomFest, of course).
Olivia started at BoomFest as a film contestant, and moved quickly from music committee member to music programmer. Here are a few words from Olivia: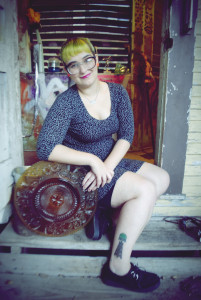 "Hi, I'm Olivia, a proud Beaumaniac. I started volunteering with Boomtown in 2013 and am always excited to bring great live music to fresh audiences in the area. I've also been a hobbyist filmmaker since entering a short in the Spindletop Film Festival in 2003. Music is a wonderful way to bring people together and the music committee is dedicated to putting together the most enjoyable lineup imaginable."
2016 Festival Announcement/Update/News:
As is (newly) tradition, Olivia's here to announce something else you can look forward to at #BoomFest16, one of the festival bands playing Thursday, February 25th, at McFaddin-Ward.
Introducing…. The Matchsellers! This is the first time The Matchsellers will perform at BoomFest, though they aren't new to Beaumont. They've played several venues around town, including Victoria House and the Texas Rose. Below is a great video of one of their previous performances (filmed by BoomFest director, Chase Kiker).