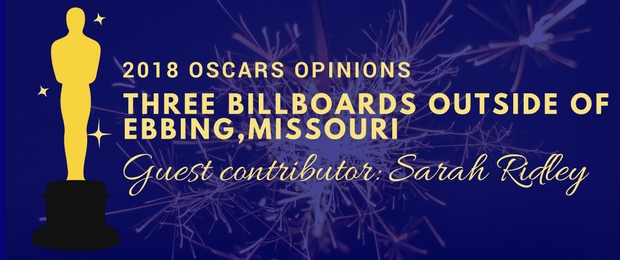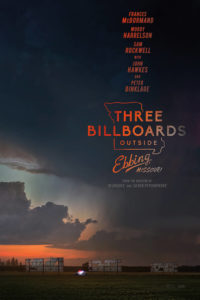 Ebbing Misery in Three Billboards Outside Ebbing, Missouri
by Sarah Ridley
Towards the end of Martin McDonagh's latest film Three Billboards Outside Ebbing, Missouri, the salesman of the titular three billboards, Red (Caleb Landry Jones), lies in a hospital bed recovering from being beaten and thrown from the second story window of his business. He watches a burn victim, face obscured by white bandages, being wheeled into the room, and offers his new roommate a glass of orange juice only to discover that the burn victim is his assailant, the town's former goon cop, Dixon (Sam Rockwell). At this point in the film, Rockwell's stupid cruelty and mean clannishness has made him repulsive to everyone, characters and audience alike. After reacting with horror, Red hobbles over and leaves the orange juice, with a bendy straw, by the bedside of former Officer Dixon. This gesture, which the camera lingers on while Dixon sobs in the background, is what I look for in McDonagh's films and plays: the moment of redemption and forgiveness that provides relief from the weight of violence and human misery.
These moments don't come easily, though. As in the work of Flannery O'Connor, referenced in the novel Red is reading in his introductory scene, redemption, forgiveness, and even love don't come without some act of horrific violence and often grotesque humor. The humor comes at welcome points in this grim film: a story of a grieving mother, Mildred Hayes (France McDormand), who has taken the unspeakable and unsolved rape and murder of her teenage daughter and, through three billboards, made the crime speak in order to goad the local police chief (Woody Harrelson) into action. (*1)
McDormand as Hayes is the comic-dramatic foundation of this film, and cuts down those around her with acerbic gruffness. Throughout the film, McDonagh's humor comes in flashes: in McDonagh's signature combative dialogue, in comical mismatched pairings (casting is on point here), and in the
shock of fantastic violence and self destruction.
The film's plot isn't as cohesive as other McDonagh works (see The Lonesome West) and some of the the characters aren't as complex and complete as the characters from In Bruges, but Three Billboards offers McDonagh his own moment of redemption as the film flips the punchlines. Characters in other McDonagh plays and scripts who are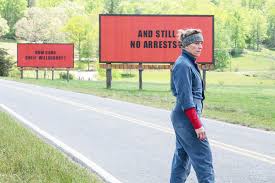 punchlines or targets become the ones who tell the jokes in Three Billboards. Peter Dinklage's character gets the last say as opposed to being the incidental target, the object of laughs and stray bullets, like Jordan Prentice's character in In Bruges. Race and nationality are no longer simply subject material for throwaway jokes as in McDonagh's other works. Instead, race and difference are the subtext to Hayes's dogged hunt for justice, in the face of near-daily opposition and violence.
Flannery O'Connor once said that violence prepares her characters to accept their moment of grace, and McDonagh follows O'Connor's style by introducing violence to prepare characters for grace and redemption from others. Red's small act of kindness, made possible through beatings and burnings, is a small catalyst for change in Dixon's character. Because of the cruelty and senseless violence, these moments of grace and redemption ebb the misery of Hayes and Dixon, and make Three Billboards Outside Ebbing, Missouri a well-celebrated addition to McDonagh's oeuvre.
(*1) In a gesture eerily similar to the cartoonish news presenter from the film, my hometown newspaper has already published an article claiming that McDonagh drew inspiration from a similar Southeast Texas case of botched justice (a claim McDonagh has not confirmed), but a search for the narrative source misses the mark. The point emphasized throughout the film is thathorrific crimes against the innocent and under-represented can (and do!) happen in towns and cities across the world.