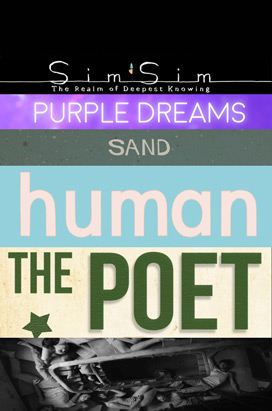 Get ready to break some rules with this eclectic collection of out-of-the-box art from filmmakers all over the world.
Purple Dreams (2:14) Animation. Directed By Murat Sayginer. Turkey.
A short animated film about the transition from the Age of Pisces to the Age of Aquarius.
Sand (4:48) Animation. Directed By Arjan Brentjes. Netherlands.
You get up at five, eat your vitamins, take some water with your coffee, work for a few hours, eat your omegas and flavonoids, work a little more, get some exercise and then take a shower. But don't bother trying to wash the sand out of your hair.
Second Hand Lovers (4:03) Music Video. Directed By Theo Dudley. Israel.
A young man lives in his bachelor's apartment which he shares with the memory of all his past relationships.
Human (5:02) Animation. Directed By JungHo Bang. Korea.
Man, one of large primates, has replaced the process of natural selection with intelligent design system. That's a human instinct. Human has done intelligent design to evolve into more intelligent life by instinct and by purpose. A short film 'human' shows that the violence, brutality, and dysmorphism human has in the evolution process.
Dandelion (2:52) Animation. Directed By Elisa Talentino. Italy.
The dandelion flower is the spring oracle. The legend says that the lovers give their wishes to the flower and then blow them away to make them come true.
The Realm of Deepest Knowledge (3:30) Animation. Directed By Seung Hee Kim. Korea.
One digs beneath the surface of the other to reach the deepest place of his heart during struggles. It lightens up the darkness. They fulfill one another within the sense of oneness.
Did You Really Say No (4:25) Music Video. Directed By Theo Dudley. USA.
A man and a woman are lost in a house too big for the size of their love, haunted by ghosts of their relationship.
This Little Love (3:49) Music Video. Directed By Paul McDonnell. Australia.
Set in the Pincio Gardens above the city of Rome, This Little Love was filmed in a single take.
Molasses & Lemon (4:06) Experimental. Directed By Robert Sickels. USA.
Images and ideas associated with falling in love abound in popular culture. Happy couples hold hands and look at each other longingly while walking carefree along the beach. Hearts, diamonds, and flowers. Romance and passion. Chocolate and cherubs. Conversely, we associate heartbreak with all things bad. Darkness, depression, and despair. A solitary figure trudges silently in the rain without a jacket, soaked and despondent. A person in pajamas with tear stained cheeks sits alone on a bed. This cultural iconography surrounding love and heartbreak is widely prevalent. But reality often belies the stereotype. As the interviews in Molasses & Lemon vividly reveal, the ways people talk about their experiences with love and heartbreak are often eerily and intimately related. Could it be that we simply can't have one without the other? Love. Heartbreak. Does it even matter?
Ella Goda – La Cura Schopenhauer (3:00) Music Video. Directed By Antonino Valvo. Italy.
Sandman – Tameca Jones (3:49) Music Video. Directed By Megan Cardwell. USA.

The Poet (6:26) Experimental. Directed By Adam Cushman. USA.
After the Second World War, an inspired poet takes the stage.