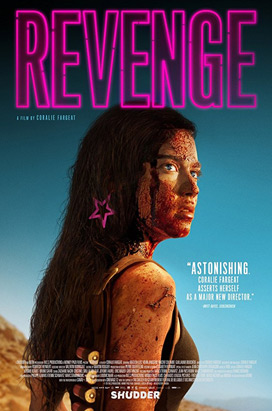 Revenge (1 hr, 48 min) Directed By: Coralie Fargeat.
Starring Matilda Lutz, Kevin Janssens, Vincent Colombe and Guillaume Bouchède.
Coming to Beaumont by way of the Sundance Film Festival, Revenge is a feminist subversion of the revenge-thriller genre, painted on a crimson canvas of hypnotic beauty and bloody retribution. After Jen is left for dead by her wealthy boyfriend, she emerges alive and with a relentless drive for revenge. It's a tale of transformation that dissects gender in genre and blurs the lines between vengeance and survival. Fest programmers described it as evocative of such influential films as Last House on the Left and I Spit on Your Grave. Warning: Graphic content.
Special Sneak Peek, Courtesy of Neon Productions.