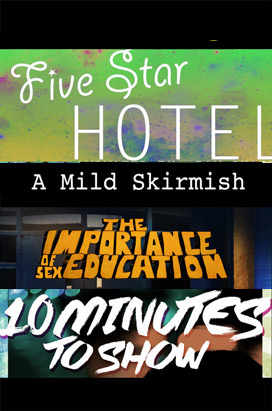 In the wake of Hurricane Harvey, Boomtown decided to help keep #TexasStrong by creating this flagship collection of short films made right here in the Lone Star State.
Five Star Hotel (1:05 min) DIRECTED BY: Ian Chapoy. North Richland Hills, TX
In this animated music video, there's only fifteen seconds left on earth and everyone is fighting to get past…
A Mild Skirmish (7:41 min) DIRECTED BY: Jason Leal. Spring, TX
A power struggle in a local pool between Sam and Sergei over a Vietnamese woman (Li) begs the question, who is the good guy?
The Importance of Sex Education (14:57 min) DIRECTED BY: L. Elizabeth Powers. Round Rock, TX
In 1976, a 12-year-old girl tries to unravel the mysteries of sex ed.
Pop! (10 min) Directed by STX Media. Corpus Christi, TX World Premiere!
During the renovation of an old church, Johnny discovers an antique toy box strangely hidden in a wall. He soon discovers that the box's purpose is far more than mere child's play.
10 Minutes to Show (12:33 min) DIRECTED BY: Joshua DeFour. Austin, TX
Punk-rock drummer Charlotte "Charlie" Howe desperately wants to win an Austin battle of the bands competition, but 10 minutes before her band is set to perform everything seemingly goes to hell backstage…