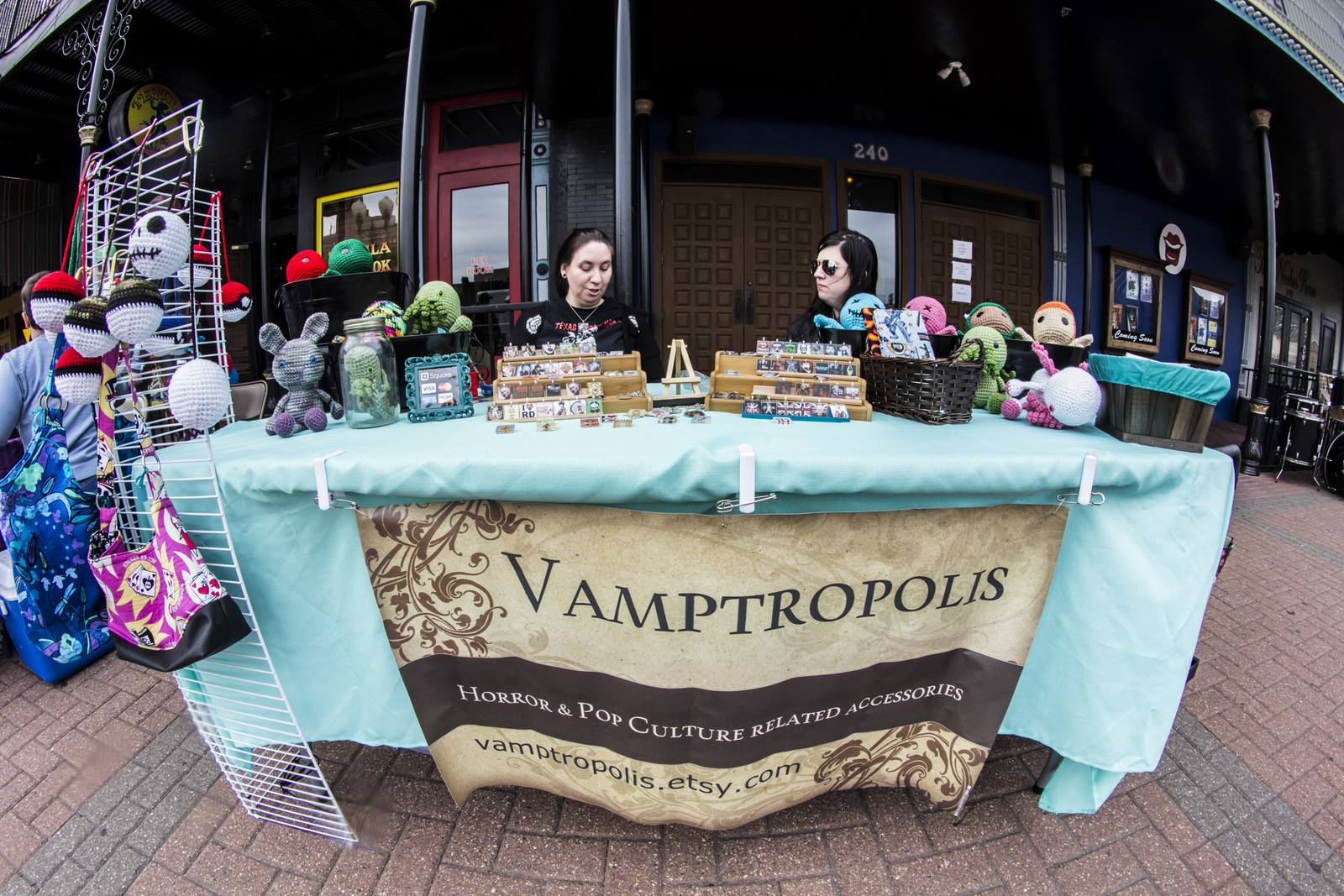 Bring your cash, your heart & your eyes! We've got plenty of vendors to entertain your pocket book and your soul outside the Jefferson Theatre on Saturday, starting at noon. Whether they are AcroYogis demonstrating their gravity-defying art, artists showcasing their colorful paintings, philanthropists sharing their community outreach, or a crocheted version of a malevolent cosmic entity, there is something for everyone at our vendor booths.
Retail
Zohmbie is an E-Liquid company that may not be as big as other lines, or have the giant facilities, but their juice is still made in a sealed, sanitized clean room. Helping to keep their customers' peace of mind.
FLAVNT is an Austin based independent clothing brand for men, women, and everybody in between. FLAVNT is all about being proud and comfortable with who you are and flaunting that to the world.
If you like horror & sci-fi themed crocheted adorableness, you'll love Vamptropolis. She sells crochet sackboys, Cthulhus, Pokeballs, car accessories, glass tile pendant jewelry, beanies & more!
Cozy comfort at practical prices! Dwan's Crochet sells beanies, berets, headbands, scarves, and other accessories that are locally made in SETX. Dwan's friend will be selling cookies as well.
Boots Beverages is a throwback to when soda was a uniquely Americana experience.  Featuring flavors popular during the 1940′s and 1950′s, a bottle of Boots Beverage is a time capsule to a simpler time.
Grandma's Basement will be bringing a variety of the vintage items that can be found in their shop. Their focus will be on vintage fashions- clothing, jewelry, accessories, as well as a variety of other vintage goods.
Tom's work reflects the bright colors and bold brush strokes commonly associated with a New Orleans art style. He'll be selling original artwork ranging from lower priced prints and watercolors to larger canvas'.
Chance's goal in life is to show the world something new, something no one has ever seen before. He will have reasonably priced paintings and digital art prints for sale.
The Plant Stand is a mobile, home-based shop, offering creative, one-of-a-kind pieces with staghorns, bromeliads and air plants in their own unique, natural mountings perfect for your home or patio.
CarPool Crafts makes coasters made from beer/soda boxes, gift tags from the left over cardboard bits, recycled crayons into new, fun shapes, beer cans for manly candles, and upcycled mugs with silly phrases and bad drawings.
Non-Profits:
Southeast Texas Atheist Helping the Homeless has devoted its energy to helping the homeless population in Southeast Texas. They will be providing information about the local homeless community as well as information about our organization and ways people can help us help the homeless. Donations welcome!
Southeast Texas NORML is organized to educate our communities to change public opinion regarding cannabis consumers so that responsible usage can be socially and legally accepted. They will be providing free information to anyone interested.
Acro-yoga is partner yoga that uses balance, gravity and awesome to achieve flight! Don't let their fancy footwork intimidate you – the local Beaumont AcroYoga Community will be performing as well as being present to answer any questions and allow the crowd to try it out if they wish.

The aim of Beaumont Humanist Society is to create a volunteer base to plan and act for the betterment of our city, especially the less fortunate among us. They'll be hosting fundraisers for Southeast Texas Food Bank, our 501C3 and other charitable organizations.
Sojourn Community Church is a new church plant in Beaumont, TX. They are a gospel centered church where the truth is preached and lived out in authentic community with others. Their mission is to move themselves and others closer to Jesus. They'll be giving away coffee!
Texas Punishment Crew is a Royce Gracie Jiu-Jitsu Network and is one of the very few  academies in the country to have 4 Royce Gracie Black Belt Instructors. There is 30 years combined experience just between the head instructors.