Boomtown's Annual 48 Hour Film Race is taking place Friday, January 13th at The Logon Cafe, in Beaumont, Texas. Additional details.
Boomtown's Annual Music Video Contest where teams are challenged to create a music video from a track of the festival's bands. Check back Early January 2017 for more details.
SMALL and CREEPY Film Contest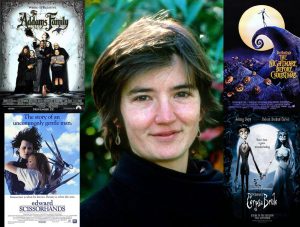 QUICK FACTS
Free to enter

All films must be creepy and less than 4 minutes

Content should be network TV friendly

Stories must take place in "Boom Town"

Deadline is October 1, 2016 11:59PM Central Time

Winners will be selected by Caroline Thompson
GUIDELINES
The contest is free to enter and open to all ages!

Films must be offbeat, creepy and in the style of Caroline Thompson.

Maximum entry runtime is 4 minutes, including credits.

Stories must be set in, or in some way mention, a placed called "Boom Town."

Content should be acceptable for network television broadcast (so no graphic nudity, excessive gore or harsh profanity).

Films should be made using elements (footage, music, etc.) that are original, or used with the permission of the rights holders. Unauthorized use of copyrighted materials will be taken into consideration during judging and may result in disqualification.

All entries must be submitted electronically via FilmFreeway before October 1, 2016 11:59PM Central Time.
We encourage filmmakers to document their participation in the contest online using hashtags #SmallandCreepy and #BoomFestX
HOW TO SUBMIT YOUR FILM: Go to Boomtown's FilmFreeway page at https://filmfreeway.com/festival/BoomFest and look for the "Small and Creepy" Film Contest category.
If you have any questions, please send them to [email protected] or reach out to us on our Facebook Page.
Winners will be announced and screened at a Halloween Blood Drive-In event on October 29, 2016, and prizes awarded to the 1st, 2nd and 3rd place winners. The winners will then be announced and their films posted online.
PRIZES
| | | | |
| --- | --- | --- | --- |
| Place | Final Draft 9 Screenwriting software | Autographed By Caroline Thompson | 2017 Boomtown Film & Music Festival – ALL ACCESS passes |
| 1st Place | 1 copy | Movie Poster | 4 |
| 2nd Place | | Funko Pop Doll and Movie Poster | 2 |
| 3rd Place | | Movie Poster | 2 |
ABOUT CAROLINE THOMPSON:
Caroline Thompson has written ten produced screenplays, four of which she also directed. Her credits include EDWARD SCISSORHANDS, THE NIGHTMARE BEFORE CHRISTMAS, TIM BURTON'S CORPSE BRIDE, THE ADDAMS FAMILY, THE SECRET GARDEN, and BLACK BEAUTY. Her first published writing was a novel, FIRST BORN, the happy little tale of an aborted fetus who comes back to be with his mommy.
Caroline always has and always will love stories of the misunderstood, the outcast, the 'if only they could see me as I really am,' the lumbering accidents among us who just want to fit in. An abortion. A creation. An orphan. A dog. A horse. For her, it's always the same story.
The Boomtown Film & Music Festival would like to thank Caroline Thompson and Final Draft for making this contest possible.