RED ROCKET SCIENCE
by Christopher Dombrosky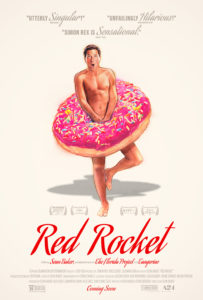 America's Gulf Coast isn't known for tornadoes, but production of the Southeast Texas-shot independent motion picture dramedy RED ROCKET was a whirlwind. When acclaimed multi-hyphenate auteur Sean Baker, maker of 2015's TANGERINE and 2017's THE FLORIDA PROJECT, found his 2020 work in Canada scuttled by pandemic, he pivoted from the Great White North to the Lone Star State in search of the right setting to make a movie so small that it could fly beneath the cloud of covid.
Baker quickly found such a backdrop amid the flame capped refineries and coastal wetlands of Jefferson and Galveston counties. His first choice to star in the new picture was Simon Rex, a 90s-era MTV VJ now living off the grid in the Mojave Desert. After calling Rex to introduce himself, and watching an iPhone-recorded audition sent over within five minutes, the director told Rex that he had three days to get his ass to Texas.
The film they made begins with such a road trip. In RED ROCKET we meet Simon Rex's character Mikey on a bus returning home to Texas City (which, in its coverage of the movie, Vogue magazine mistook for a fictitious place. One reviewer unflatteringly compared the setting to that of Harmony Korine's 1997 indie GUMMO.) Mikey is financially broke, physically beaten, and fleeing from who knows what. Film aficionados may think of Harry Fabian at the beginning of NIGHT AND THE CITY (1950). The perversely upbeat song "Bye, Bye, Bye" by NSYNC plays on the soundtrack, communicating to us that this carbon copy K-Fed is a relic of the aughts, a Myspace page made flesh.
His instant has-been ambiance, along with a manic persistence, compels us to root for underdog Mikey as we watch him reconnect with his wife and start applying for local jobs. Roger Ebert called movies an empathy machine, and it works as powerfully here with Simon Rex's flawed Mikey as it did with Adam Sandler's Howie Ratner in UNCUT GEMS (2019). Mikey is charismatic, confident, and still boyish in his 40s. When we learn that our protagonist spent the last twenty years working in the adult film industry, Mikey even becomes a sympathetic figure in his plight as a former sex worker trying to go legit. And we understand when, legal employment eluding him, Mikey falls back on small time weed dealing to make ends meet.
Slowly, however, the film reveals that this charming scamp is also a habitual mooch, a liar, and possibly a sociopath whose selfish bad decisions damage anyone involved, including himself. All the people that Mikey relies upon after returning to Texas City are women, but like the wounded soldier in THE BEGUILED (both 1971 & 2017), he doesn't actually care about these women that are supporting him, and he believes he's slick enough to play them all and get away with it. By the time Mikey starts grooming a teenage girl who works at the corner coffee shop (Port Arthur's The Donut Hole, originally scripted as a food truck) to run away with him and become his meal ticket back into the world of adult entertainment, Mikey's empty promises sound to us like Harvey Keitel pouring honey into the ear of underage Jodie Foster in TAXI DRIVER (1976).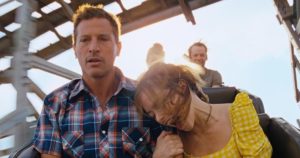 RED ROCKET's narrative rests on the shoulders of Mikey, the likable grifter who's too fixated on hustling and playing the angles to see what's right in front of him, and Simon Rex is perfectly cast. The actor with intentionally unmedicated ADHD did dabble in making adult films when they were on VHS, before he modeled for such fashion houses as Versace and Calvin Klein. But the real life experience that most enriches Rex's performance as Mikey is his faded glory days; his status as a footnote of Millennial celebrity culture. Rex himself never rose above being an off-brand Channing Tatum in straight-to-bargain-bin spoof movies (a filmography more unseemly than the porn), and he's gotten by since then as a middle-aged white rapper with such dope lyrics as "My dick, size of a pumpkin. Your dick look like Macaulay Culkin." The character of Mikey likewise peaked pre-smartphones, has aged without maturing, and is possessed by unrealized ambition that calcified into desperation. Sean Baker spotted those qualities in Rex, along with the charisma to carry a feature, and tapped them to great effect.
Baker's knack for unconventional casting also shines in RED ROCKET's rad supporting cast, plucked from the streets of the Golden Triangle. Mikey's sidekick is played by Ethan Darbone, who was discovered waiting tables at Touch of Cajun Café. Former refinery worker Brittney Rodriguez was cast after being spotted walking her dog. She steals her scenes as the flinty, no-nonsense lieutenant to her drug dealing mother, played wonderfully by another first time actress from New Orleans. One prominent role went to a local women with no acting experience that Baker met while jump starting the dead battery of her car. But even more than authentic faces in the film, Southeast Texas audiences will recognized familiar places: streets of Port Arthur, beaches of Galveston, Nederland's Boston Avenue, Beaumont's Parkdale Mall, the Kemah boardwalk and more.
In true independent film fashion, RED ROCKET was shot on 16mm (Baker famously photographed his earlier feature TANGERINE on iPhones), using a skeleton crew nimble enough to escape the attention garnered by relatively buzzy local feature film productions HELLION (2014), NOBLE THINGS (2008), and even SEARCHING FOR WOODEN WATERMELONS (2003). Despite its modest scale, RED ROCKET has found release beneath the blessed banner of indie distributor A24 (may Oscars be upon them), been celebrated at glitzy galas in Cannes, had its premiere at L.A.'s Tarantino-owned New Beverly Cinema, and has garnered award nominations and wins from film festivals and critic associations alike. (Whether Simon Rex will receive the kind of re-appraisal that Burt Reynolds enjoyed in the wake of his own porn-related dramedy BOOGIE NIGHTS, or will return to exile in the desert with one last hurrah to be proud of, only time can tell.)
But beyond its boffo acclaim, RED ROCKET's greatest achievement in the estimation of this reviewer is that amid the twisted metal industrial plants, the vulgar vernacular of believable characters, and the commiseration shown between low income residents of differing races, I think Sean Baker presents the truest portrayal of my home that I've yet seen on screen. And that's one prize that we Southeast Texans can all share in.