THE IDIOTIC AND INNOVATIVE STUDENT BODIES
by Justin Norris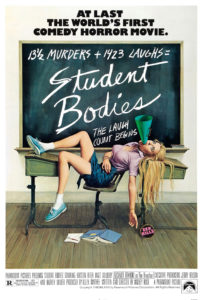 Lost to time and memory, STUDENT BODIES is something of a strange marvel. It stands out first for being filmed in and around the Houston area, particularly in the Richmond and Katy areas. Folks over in Port Arthur get something to point out in this film as the 1980 Thomas Jefferson High School Yellow Jackets (who in real life faced off against the Odessa Permian Panthers of FRIDAY NIGHT LIGHTS fame) appear in this film as a ferocious and over-powered visiting football program.
Conceived and created during a writer's strike, STUDENT BODIES is shockingly trailblazing. It was released in the summer of 1981 amid a gold rush of slasher movies, and Mickey Rose's (or Michael Ritchie's depending on who you ask) horror-comedy-but-definitely-more-of-a-comedy film stands out for what it attempted, if not for what it actually accomplished.
For all its trailblazing, what the film strives to do, namely, take the slasher genre to task through meta/snarky jokes and observations, is only slightly successful in execution. On idea alone, STUDENT BODIES acts as a precursor to future horror parodies aimed at slasher films later "perfected" by the likes of the SCARY MOVIE franchise. From the opening scene, set during the renowned holiday of "Jamie Lee Curtis' Birthday", Rose/Ritchie establish the hijinks and repetitive jokes of their film as the film's villain, the perpetually gasping "Breather", kills off a babysitter and her boy toy with nothing but a paper clip.
Despite being a major studio production (Paramount Pictures), this is a cheap looking film, but it works in the context of an over-the-top parody of slasher films as the hammy acting (suitably executed by a cast of unknowns and one time actors) and practical effects grants a shaggy dog attitude to the whole thing. Indeed, while the film increasingly runs out of steam in regards to legitimately clever and well thought out jokes, it's more enjoyable to notice how much other horror parody films down the road borrow (or outright steal) jokes from this movie. Take the moment where our killer opens a container containing a knife, a noose, a gun, and a paper clip and ponders which one will be his weapon. As his humorous (and increasingly annoying) gasping supplies the soundtrack, we see from his point of view (ala HALLOWEEN) as he finally picks up a pointy paper clip as his weapon, a sequence that was just as stupid and funny then as it was when SCARY MOVIE would later do the same thing some 15 years later or so.
Despite its unappreciated cultural impact, STUDENT BODIES, as even just an 85-minute film fails to carry the energy from its opening sequence as it sputters along. Again, all praise to Rose/Ritchie for using what they had on hand to make a film better than it should be, but at a certain point, especially for a parody film, once you lose the energy in your humor expect a dip in quality, and here in this film that mantra rings true. As with most other parody horror films, there's enough jokes throughout its tight run-time that each viewer can find something to laugh with, laugh at, or miss, as each frame in this work is absolutely packed with jokes both visual and auditory.
While it may not fully work, STUDENT BODIES at this point acts better as a retro precursor to a specific genre of film than as a fully successful attempt at making fun of the likes of Michael Myers and Jason Voorhees. As with other first steps through history, this early example of horror parody stumbles a lot, but only so other parodies in the future can learn from it. Despite its childish outcome, there's something kind of sweet about that thought. Pretty good for a movie that features a man obsessed with wooden horse head bookends!
---
You can read more of Justin Norris' film reviews on Medium @ justinnorris12.medium.com