THE JOY OF TEX
by Hilliard Pruitt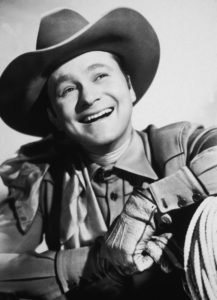 Woodward Maurice 'Tex' Ritter was born on January 12, 1905, in the small East Texas town of Murvaul. He is considered an early trailblazer of American country music, a celebrated singer and actor entertaining audiences over three decades spanning from the mid-1930s to the 1960s, as well as the patriarch of the Ritter acting family. Tex spent much of his formative years juxtaposing the burdens of helping to maintain the family farm in East Texas while studying as an elementary student in Carthage, Texas. Not long after, his family moved to SETX, where he studied multiple musical disciplines, including voice, trumpet and guitar while residing in Nederland, Texas. It was during this period that Tex began to hone and develop the talents that would eventually make his name one of the most synonymous with the history of Country & Western music and film.
In 1922, Tex graduated with honors from South Park High School in Beaumont, Texas. Soon after, he subsequently bid 'happy trails' to SETX to enroll at the University of Texas in Austin to study law. While still in college, Ritter hosted his own weekly radio program on KPRC in Houston, primarily entertaining listeners by belting out his own versions of old cowboy songs. During that time at the station, he was beginning to realize his true dream of becoming an actor, which consequently inspired him to relocate to New York in 1928 to join a theatrical ensemble. He returned to school after a few years of struggle and discouragement, but it was short-lived. Not long thereafter, he decided to head back to the Big Apple to pursue his persistent dream of being a stage actor, where he could hopefully gain fame and fortune in the process.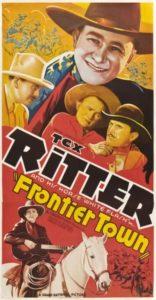 He appeared in several Broadway plays in the early 1930s while working on a variety of radio programs, providing voice talent for broadcasts such as The Lone Ranger, Tex Ritter's Campfire and Death Valley Days. In 1932, he starred in New York City's very first broadcast Western, The Lone Star Rangers on WOR-AM, where he sang and provided narration for tales of the Old West. Later that year, he made his first recording. In 1933, Ritter wrote and starred in Cowboy Tom's Roundup on WINS-AM, a daily children's cowboy program.
Cowboy culture was rapidly becoming a staple of television and film by the mid-1930s. The unbridled success of Gene Autry's films led other studios to scramble to seek out their own crooning cowboys, hoping to cash in on their runaway popularity. In light of this new development, Tex decidedly moved to Hollywood in 1936, in hopes of being selected for the silver screen. One of the first producers to fully appreciate Ritter's on-screen potential was Edward Finney, who signed Ritter and released his first starring film, Song of the Gringo, later that same year. The entire Tex Ritter canon between 1936 and 1948 is staggering; it includes a whopping 78 films, including classic titles like Where the Buffalo Roam, Trouble In Texas and Take Me Back To Oklahoma. Tex's likable on-screen persona soon made him one of America's most-loved cowboys, which made him well-suited to play the part of the idyllic white hat protagonist for the western films of his era. Adhering to the formula for western cinema, just as Roy Rogers had Trigger and the Lone Ranger had Silver, Tex would likely be found accompanied by his sidekick and co-star, his trusty horse White Flash.
Ritter's films were generally considered low budget, unlike the elaborate big money productions from major studios starring Roy Rogers or Gene Autry. As the era of ubiquitous Hollywood B-Westerns began to make their last stand, Ritter was one of the few singing cowboy stars versatile and determined enough to adapt and maintain a successful recording career long after it began to draw to a close. He continued to record prolifically, and in 1942 he was the first act to sign with the newly formed Capitol Records, for whom he would record for the rest of his life. Although his music career wasn't nearly as successful as his movie endeavors, he still managed to churn out hit after hit, becoming one of country music's most profitable commodities of the 1940s.
Although some critics would say Ritter did not have what was considered a traditionally excellent singing voice, they found his unique twang, odd misarticulations and choppy delivery contributed to a perception of authentic integrity, somewhat akin to Hank Williams, Sr., making his voice one of the most alluring in the annals of country music. He offered up a smorgasbord of tasty eclectic material ranging from cowboy ballads, church hymns, and children's songs, to western swing tunes and emotive narratives. In 1944, he scored a number one country hit with "I'm Wastin' My Tears on You." Alas, his concluding singing cowboy role was in 1945's Flaming Bullets, though he did make a few returns to the big screen for several cameo appearances in the early 1950s.
Moving in a new yet not unfamiliar artistic direction, Ritter began recording the first of several children's songs in 1947. During these recording sessions, Tex unsuspectingly crafted a sleeper hit with "Pecos Bill," which had been featured in the Walt Disney classic movie Melody Time. Tex Ritter's magnum opus materialized in 1952 with his indelible rendition of High Noon, which would procure the artist an Academy Award for Best Original Song. In 1953 he returned to his work in television, taking a starring role as a co-host on Town Hall Party, one of the most popular country music television shows of the era, enjoying seven years on the air until its cancellation in 1960.
All the while, Ritter continued to record abundantly, releasing several albums including "Songs from the Western Screen," "Psalms" and "Blood on the Saddle." The latter was a haunting mix of cowboy narrative songs with dark themes. Most notably, the title track was an eerie song that he had initially recorded back in the 1930s. A welcome redux to the country charts came in 1961 with " I Dreamed Of A Hill-Billy Heaven," which would prove to be his final hit record.
Ritter also worked hard to preserve Country and Western culture by helping to establish channels intended to honor the contributions of artists working in the genre. He was instrumental in the formation of the Country Music Association (CMA) and was elected its president in 1963, while spearheading The Country Music Foundation and The Country Music Hall Of Fame, to which he was inducted in 1964. Tex moved to Nashville in 1965, where he began providing content for WSM Radio and joined The Grand Ole Opry, earning a lifetime membership. He would continue to be involved with WSM and the Opry for the duration of the 60s.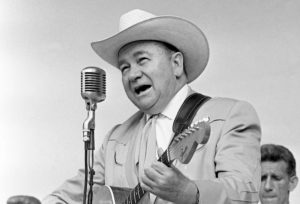 In 1970, however, he satisfied a persistent longing to run for political office, campaigning unsuccessfully for the Republican nomination for US Senate. Three years later, in 1973,Tex Ritter died at the age of 68 after suffering a heart attack at the Metro Jail in Nashville, where he was arranging bail for one of his band members. He had just recently finished his final film role as 'Ryan' in Sing a Country Song.
Ritter's death signified the passing on of an OG Country and Western legend, who left behind a legacy of numerous contributions to film and music. To commemorate Ritter's offering to the recording and film industry, several accolades and honors have been bestowed upon Ritter posthumously. These include a star on the Hollywood Walk of Fame, a Golden Boot Award for his work in Western films, and inductions into the Western Performers Hall of Fame at the National Cowboy & Western Heritage Museum in Oklahoma City, Oklahoma as well as being an inaugural inductee at the Texas Country Music Hall of Fame in Carthage, Texas.
His son John Ritter became a popular actor until his death at the age of 54 from an aortic dissection in 2003. Members of the surviving family believe it is likely Tex died of the same complications, as the condition appears to be genetic. Other members of the Ritter family have continued to carry on the family name in show business, including grandsons Jason and Tyler, and granddaughter Carly. Tex is buried in the Oak Bluff Cemetery in Port Neches, Texas, being laid to rest not far from where his fascinating trek to stardom began.