Join us for a filmmakers meet and greet 5-7 p.m., Friday, May 12, 2023, at Jazz and Jokes Club, 695 Orleans, Beaumont, TX.
Stop in after work for a cocktail, listen to a little good music, meet some indie filmmakers and maybe get some behind the scenes scoops on some of your favorite movies and TV shows, like Stranger Things, Walker, Machete, Friday the 13th, Pitch Perfect and more!
Come meet Lynda Reiss from Hollywood and Scott A Reeder from Austin. With over 100 projects between them, these "Prop Masters of the Universe" have worked on at least one of the films on your list of favorite movies.
Local musician Ethan Osborne will be on hand with an acoustic set.
The Barefoot Director, Penny LeLeux, and her co-host John Frederick Jr. will be on hand to conduct filmmaker interviews.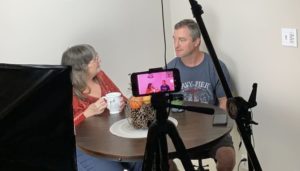 A cash bar will be available, along with a sampling of tasty delights from a brand-new bistro, Truth, which is located across the street from Jazz and Jokes.
Later, the music program will continue on through the night at Jazz and Jokes. If films are more your thing, a Kevin Smith retrospective of "Clerks" and "Mallrats" will play, along with a sampling of festival shorts, at the Jefferson Theater after the meet and greet.