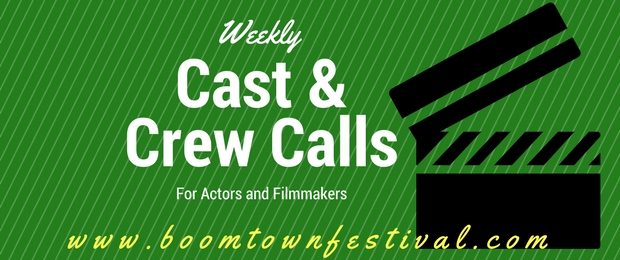 Are you looking to work on a short film or take acting classes? Our friends at the Houston Film Commission make a list of casting/crew calls every week, which is a brilliant idea! You can subscribe to their newsletter at their website (http://www.houstonfilmcommission.com).
If you have a project that you need a crew or cast, please email us!
SPECIAL BEAUMONT CASTING CALL!
Looking to cast the female lead (age 18-24ish) in the horror/thriller short film "Black Book." Think Kiernan Shipka's role in "The Blackcoat's Daughter." Length will be around four minutes. We plan on shooting sometime during the fall in the Beaumont area, not exactly sure when yet. Interested? Contact [email protected].
CREW CALL [$$$]
Texavision Media Center has launched Television Programming in Houston with live streaming content and access through mobile devices. We are currently seeking Associate Producers to join our team. Associate Producers will have the opportunity to create and broadcast their own shows, films or music videos. Duties include writing, editing, idea pitching, assist in promotions as well as manage growing tape needs on the program. For consideration, Producers must have writing knowledge/skills, excellent creative writing and communication skills, ability to recognize stories with potential and develop them into compelling broadcast content, highly detail oriented with the ability to execute ideas, comfortable working with talent, and other high profile individuals, excellent time management skills, with the ability to prioritize and multi-task, and work under shifting deadlines in a fast paced environment. Selected Producers are independent contractors and are paid positions. To schedule a pitch meeting, please email te[email protected] or visit the TV Pitch Guidelines here

http://bit.ly/2qeylhJ
CREW CALL [Non paid]
Champion Entertainment is seeking crew for upcoming web series "Jeff" to be shot in Houston area 9/29-12/29 2017. Synopsis: Grace has a psychological disorder where she can't leave any of the parameter of her home. She has no friends, and very anti-social. Her mother passes away and leaves her a large amount of money and she spends it all on an prototype computer AI operating system. The AI Jeff grows with Grace eventually understanding Grace inner self and realizing  she has an urge to kill. The AI pushes her to the limits to become the ultimate killer. Crew Positions Needed: Cinematographer, Production Assistants (PA's), Boom Mic Operators, Gaffers, Grips. Positions are Unpaid (Deferred). Film Credit, Meals, Snacks and Beverages provided. Please e-mail questions and/or resumes & reels to

[email protected]
CAST CALL [$$$]
Carrithers Studio is seeking cast for "A Thousand Words" short film to be shot in Houston over three days in the fall. Synopsis: A father and son wrestle with a family secret in order maintain their close relationship. Danny is a gay Chinese American that works for an architecture firm in Houston. His father stops by unexpectedly for an extended visit. Danny is the oldest son and only sibling that will speak mandarin to his father. His father is unaware of Danny's sexuality and Danny does his best to conceal it from him, fearing it might jeopardize their closeness. Danny and his father come to a crossroads where they have to decide to either be honest with each other or maintain the status quo of their relationship. For the role of Danny we would an Chinese American actor in his mid 30s to mid 40s. For the role of Danny's father we would like a Chinese American actor in his late 50s or 60s. Some familiarity with Mandarin would be ideal for both actors. The roles are Paid. Please send resume and demo reel/material to

[email protected]

Dub-G Films is seeking cast for independent feature film "Wards of Houston". Synopsis: Wards of Houston is a family drama revolving around 15 year old Daisy Harlin and her struggle to co-exist in two very contrasting worlds of privilege and hood life. Accepted into a prestigious high school on an academic voucher, Daisy is subjected to daily bullying from her high class peers, causing Daisy to question the brokenness of her own home life. Never knowing her father, who was killed in her infancy, Daisy begins questioning and investigating his untimely death. Probing the fifth ward neighborhood of Houston, Texas, Daisy uncovers a multitude of secrets surrounding her fathers death. The more Daisy pursues the truth, the more she finds herself in danger from everyone in her path, forcing them to face every lie. Seeking Lead Role: Daisy Harlin, 15yo, African American female. Role is Paid. Please e-mail headshot/resume/reel to Zuauhn Z. Kyle at [email protected]
CAST CALL [Non Paid]
American South Publishing Co. is seeking cast for spec TV Pilot 'throwed", a mockumentary set in Houston TX that films the lives of average Houstonians and their friendships, to be shot in Houston area October 13th-15th. Casting call is Saturday September 23rd. Various male/female roles needed between 24-55. Roles are Unpaid. For complete character breakdown and to send headshots/resumes please e-mail Hunter Storm at

[email protected]
Genuine Casting is seeking real people living in Houston neighborhoods that are experiencing regrowth, neighborhoods that are experiencing a resurgence and renovation. Searching for long-term residents who are passionate about their community and newcomers excited to join a developing neighborhood. We want to hear your story. Those selected will be featured in a commercial and be compensated. Please fill out our online questionnaire to be considered:

https://form.jotform.com/71985641956977
ILVIEN Productions is seeking cast for short film THE PICKLE JAR to be shot in Houston area September. Synopsis: Over the course of 2 days doing hard labor, GABRIELA PEREZ (14) learns the kind of intense devotion that fuels her mother ALMA PEREZ's (40s) love for her and learns just how much Alma plans to give her a better life. Gabriela Perez (14 – 16): Gabriela is an unmotivated, under achieving teenager. Raised in a low income neighborhood she is making choices that show she does not believe she will rise above the environment she is in, but will a mother's touch love change her course? Alma Perez (40s): Alma Perez looks like she is no stranger to hard work. A woman who has had to make choices that derailed her, she lives for the single purpose of seeing her daughter accomplish more than she ever did. Can she make Gabriela share her vision? Roles are Unpaid. Please e-mail resumes/reels to Imeh Esen at

[email protected]
A leading Cable Network is looking for outgoing, charismatic daters who are at a crossroads in their dating life for the TV show "Has your Love Life Gotten Complicated?". Online dating has made it easier than ever to link up with eligible singles in your area. But with so many potential partners at your fingertips, it can be tough to settle on the one right person. Are you dating a few people, but think it's time to choose? Torn between two fantastic potential mates and don't know how to decide? Is the input from your friends and family getting exhausting? Dating apps can make romance complicated, but we are here to help. Let us remove you from the day to day of your dating dilemma, so  you can finally clear your head. With the advice and guidance of our resident relationship expert, you may be able to decide which person is right for you — once and for all. Filming dates are still being worked out but we are casting nationwide (all casting is done through Skype). Roles are Unpaid. Contact Bianca Macaluso (Casting Producer on project) at 818-480-4948 or [email protected]
Deal Breaker is a comedy short about a young professional who's questionable profession is getting in the way of his relationship with his live in girlfriend. This 10 minute short gives us a small glimpse into one of the disagreements they have. Casting for the 3 leads. Johnny: Male, late 20's/early 30's, laid back and in shape white guy who is passionate about his questionable profession. Candidate must be comfortable with his shirt off. Kate: Late 20's, Johnny's attractive live in girlfriend who is frustrated with Johnny's questionable profession getting in the way of their sex life. Walter: 30's/40s, a cooky Indian delivery man who is a big fan of Johnny's questionable work. Tentative shoot dates are October 7th & 8th in the Houston area. Roles are Unpaid, cast & crew will be fed and given credit. Actors may send their head-shots, demo reels, resumes,  to Vincent Drabik (VRD Productions) at [email protected]
WORKSHOPS FOR ACTORS:
An Introduction to Voice Over and Voice Acting Workshop will be held on Saturday, September 30th from 1pm to 5pm at 4801 Woodway. John Wesley Downey will teach the workshop which will includes basic technique, lots of practice and constructive critiques. Radio and TV commercials, industrial narration, audio books and animation/video game character work will be addressed as well as getting an agent and voice over demos. Limited space available. To enroll contact John at [email protected]
Crystal Martinez offers classes and private lessons that consist primarily of scene work for film and TV, where you'll learn how to break down scripts and do character analysis and are geared toward preparing you to get representation, by prepping for you for agent visits, auditions, and for getting you ready to be more confident, camera aware and set ready.To reserve a spot please visit us at

https://www.ogac.life
Next Actor Studio is holding on-camera acting classes for adults, teens & kids at West U and Rice Village area, along with Stanislavski Method Sessions for beginners, intermediate and advanced level students, as well as screenwriting and filmmaking workshops. Enrollment is ongoing. For more information please visit

http://www.nextactor.com/

or e-mail [email protected] or call 713-532-2867
Actors Helping Actors" is a talented team approach by Marilyn Swick, SAG-AFTRA actor, bringing acting workshops for all ages and levels, that includes a production team to shoot reels, auditions, shorts, and even feature films.  The adult group meets on Thursdays from 5:30-7:30 pm. The mixed group adults/children meets on Saturdays from 10:00-11:30 am. All classes are held at my office in Memorial. Please visit my IMDB page to learn more about my work  

http://www.imdb.me/marilynswick

or e-mail

[email protected]

to hold a spot for the next workshop, private, or audition self-tape.  Class schedules and changes are posted 48 hours prior to class in the event I am booked on set.  For more information visit

https://www.facebook.com/Actors-Helping-Actors-468351116701654
Sara Gaston

is holding an on-going class geared toward actors who have already been practicing their craft and want to continue to hone their skills and find deeper ways to explore. Each week will have a different focus and will draw from several acting perspectives including Uta Hagen, Stella Adler, Sanford Meisner, Michael Shurliff and Harold Guskin. Actors will be working both on film and off, and explore script analysis, scene study, character development, freeing yourself from constraint, finding the core of the scene and more. Each week videos of your class work are sent out to pass on to agents, managers, CD's – anyone who is interested in seeing what you can bring to the table. The workshop is Tuesdays – Aug. 29, Sept. 5, 12, 19, 6:30-9pm, for adults & mature teens (14-17), at 5322 W Belfort Ave #201 (77035). For questions or to apply for a spot in this class please send an e-mail to

[email protected]
WORKSHOPS FOR FILMMAKERS
Houston MediaSource, Houston's Public Access Television Channel, provides training and equipment for aspiring Film, TV, and radio producers. Houston's creatives are welcomed to learn how their artistic visions can be transformed into high-quality film or TV productions at FREE Orientation Sessions held every Monday at 6 p.m. Houston MediaSource is located at 410 Roberts, 77003 in EaDo. Attendees will learn how they can produce their own TV shows, radio programs, and film projects at Houston MediaSource, using top of the line gear, studios, and editing facilities. Learn more at

www.hmstv.org

or RSVP to Roger E Palomino at  [email protected] or call (713) 524-7700 x112