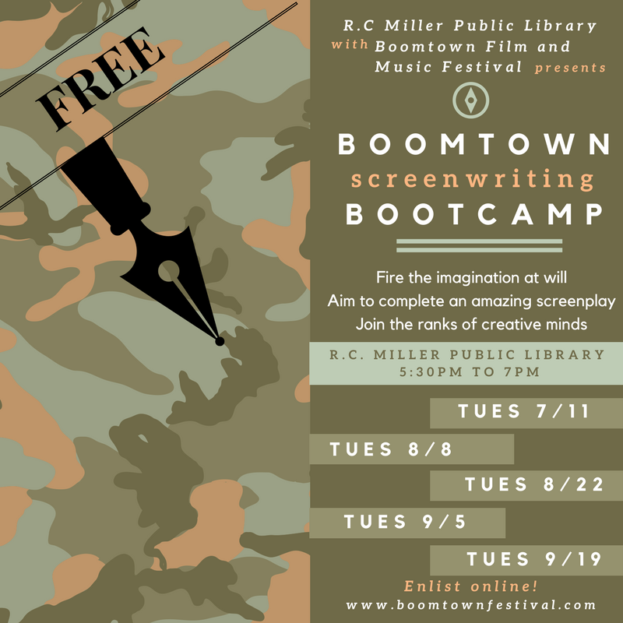 Boomtown Bootcamp: A Screenwriting Workshop
**Due to Hurricane Harvey, dates have changed. Please continue reading for corrected dates**
Do you have a idea for a blockbuster hit that won't get out of your head? Have you ever seen a movie and thought "I could write something better than that!", but don't know where to start? Join us for a 5 class bootcamp to get your project out of your dreams and onto paper! It doesn't matter if you never written a screenplay or if you've written 10, there is something for everyone in this free workshop.
You'll gain new knowledge about:
Screenplay Format

Screenplay Analysis

Project Estimates

Plot and Structure

Characters and Dialogue

Pacing

Feedback and Critique
You will be in the company of other creatives, find a writing partner, make a friend, and be inspired by the talent that we have right here in Beaumont, Texas!
The workshop will take place every other Tuesday from 5:30 p.m. to 7 p.m. at the R.C. Miller Public Library in the conference room. It is completely free to the public and recommended for ages 16 to Adult.
September 26th: Pacing, Dialogue, and Conclusion(with Sarah Ridley and Julia Rodriguez)
The only materials you will need for this class is your medium of choice and your imagination. Pencils and loose leaf paper? Ink pens and handmade notebooks? Typewriter? Macbook? All acceptable! Handouts will be given throughout the workshop so a folder or binder would be handy.
Julia Rodriguez is the Festival Director for the 2018 Boomtown Film and Music Festival. As the Boomtown liaison, she will be available to answer questions about the organization and give a little insight about the writing process based on experience with the Festival, the film industry, and as a life time writer and learner.
Sarah Ridley is the Writing Consultant for the Boomtown Screenwriting Bootcamp. Drawing on her experience as a reading and writing instructor at Lamar Institute of Technology and a volunteer for the Boomtown Film Festival, she can't wait to work with screenplay writers to develop their best screenplays.
Let us know you're coming!
More information about the R.C. Miller Library can be found here.